Apex Magazine re-opens to Submissions
Apex Magazine re-opens to Submissions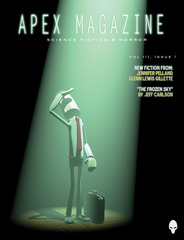 Apex publisher Jason Sizemore has announced that the magazine has re-opened to submissions.
This is great news for fans, since the magazine announced last May that it was temporarily suspending publication. It began as print edition Apex Digest in 2005, swtiching names to Apex Magazine when it became online-only in 2008. It resumed online publication in June 2009 and has published monthly since. 
Note that Apex has new Submission Guidelines. The pay rate is five cents a word, and the new fiction editor is Catherynne M. Valente. The magazine has added Dark Fantasy to their list of interests (originally focused on science fiction and horror), and their Guidelines are worth the read:
What we want is sheer, unvarnished awesomeness. We want the stories it scared you to write. We want stories full of marrow and passion, stories that are twisted, strange, and beautiful. We want science fiction, fantasy, horror, and mash-ups of all three—the dark, weird stuff down at the bottom of your little literary heart. This magazine is not a publication credit, it is a place to put your secret places and dreams on display. Just so long as they have a dark speculative fiction element—we aren't here for the quotidian.
The latest issue of Apex includes original fiction from Paul Jessup and Jerry Gordon, a reprint from Catheryyne M. Valente, Audio Fiction from Jerry Gordon, and a Dark Faith roundtable interview with Gary A. Braunbeck, Jay Lake, Nick Mamatas, and Catherynne M. Valente.
The complete magazine is also available in a downloadable, pay-what-you-want edition through Smashwords, and in a Kindle edition (for 99 cents).
Apex Book Company also recently published Dark Faith, reviewed right here at the Black Gate blog by David Soyka.