Win One of Five Copies of The Desert of Souls
Win One of Five Copies of The Desert of Souls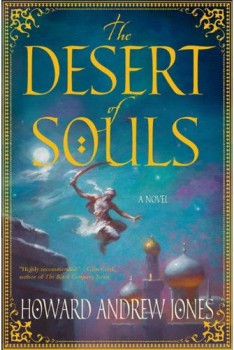 While the festitivites of Howard Andrew Jones month continue with no slowdown here at Black Gate HQ (if you don't count those two hours Sunday night when we had to turn off the lights and hide out from the Chicago PD), mail continues to pour in from readers with the sad refrain, "How can we get in on this terrific Howard Andrew Jones action?"
Now you can — courtesy of Thomas Dunne Books, who are sponsoring a giveaway of Howard's breakthrough first novel The Desert of Souls, featuring Dabir & Asim, the brave adventurers who originally appeared in Black Gate 10 (in "Sight of Vengeance"), and in Black Gate 12 ("Whispers From the Stone").
How do you enter?  Easy!
Just visit the contest website and fill out the simple entry form. All entries must be received by March 1, 2011 11:59 p.m. EST, and all entrants must have a valid email address.
From all eligible entries Thomas Dunne Books will hold a random drawing on March 2, 2011. Five winners will be chosen; each will receive a hardcover copy of The Desert of Souls. Winners will be notified by e-mail.
Are we good to you, or what? (The answer is "Yes.")  Don't thank us; it's our job.
Good luck in the contest.  And keep celebrating Howard Andrew Jones month, party faithful.