Rogue Blades Entertainment Announces eSsassins Electronic Anthologies
Rogue Blades Entertainment Announces eSsassins Electronic Anthologies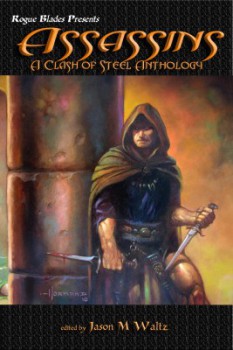 Jason M. Waltz at Rogue Blades Entertainment tells us the distinguished heroic fantasy publishing house has added a series of electronic anthologies to its already-crammed slate of planned publications for the year:
RBE is proud to introduce not only four additional titles under the Clash of Steel series, but its first four e-only anthologies as well! Better yet, these four e-anthologies deliver even more of the eagerly desired Assassins: A Clash of Steel print anthology to be released later in 2011! These 4 eSsassins titles carry over the same steel-bearing protagonists in dangerous, powerful prose, and the same eye-catching cover art from Didier Normand that the print anthology pledges.
Each volume in the eSsassins line will contain four stories, totalling 15,000 – 18,000 words in length.  They will be sold in multiple electronic formats for $3.00 each.
The volumes will be released monthly, starting in February.  The RBE website lists the complete contents of each upcoming volume, including stories from Laura J. Underwood, Yeoryios Pantazis, Amy Sanderson, Charles Kyffhausen, and G.K. Hayes.
RBE's previous Clash of Steel anthology was last summer's Demons, which I'm currently reading and quite enjoying. Cover art for each of the upcoming volumes will be unveiled soon, so keep your eye on their website for updates.