Art Evolution 19: RK Post
Art Evolution 19: RK Post
Art evolves, one generation of role-players leading into the next and each attaches it's best memories to the artists that defined their games of choice. This ongoing series continues, but if you've missed previous entries they can be found here.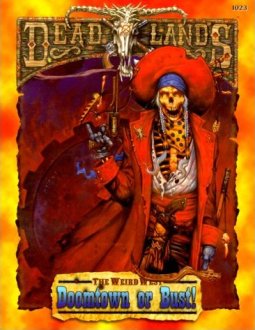 With the help of Wizards of the Coast I had my 'Caldwell Lyssa', and the weeks for the project were growing short. These final days became the most trying for me as artists started to hedge, deadlines were missed, and suddenly I faced the possibility that I might not get twenty artists when I was assured only months before that I'd have twenty-five.
Still, with every prick of a thorny dropout, there were those who provided a silver lining. Out there among the countless catalogues of incredible gaming work there were some artists who simply smiled and said 'when do you need it'.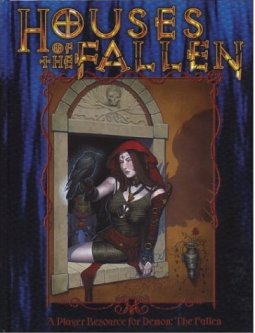 For those who made my journey so easy, I say thank you, because you know who you are. And this week I get the pleasure of talking about one of these people, the absolutely outstanding RK Post. I swear to you, if you look up gracious in the dictionary you'll see a picture of RK.
He's an inspiration, not only for the spectacular art he's done for the RPG genre over the past decade and a half, but because he's a true good guy in the industry.
So, you might wonder how I found RK. Well, that's actually a semi-interesting tale, and I might as well share it here. I was on a writer's retreat, which is to say I flew to my mother's house so I could write for a couple weeks, and I called a friend of mine to discuss artists.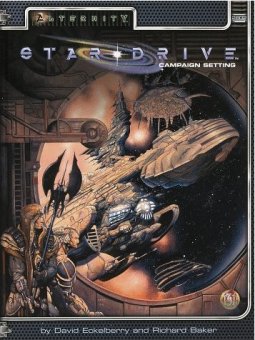 Brent, my friend, was a Magic player and the first name off his tongue was RK Post. Now I must admit, this Art Evolution project is about RPG art for a simple reason, I don't play CCGs, as a matter of fact I think I may have gone my entire life and never touched a card just to spite those folks who made them and helped crush the creative spirit of RPGs in the early 90s.
Now make no mistake, I'm not delusional, I understand that although CCGs destroyed half a dozen great RPG companies, they in turn financed the purchase of TSR, brought about the advent of the Original Game License for D20 with 3rd Edition D&D, and rebuilt the RPG industry on a stronger foundation than it had been before.
Still, I tend to hold a grudge, and so I don't 'do' CCGs, and the mention of RK Post for his work on Magic the Gathering fell on deaf ears. Thus came the passing of a year, my desk a constant workplace for the perusing of great RPG art, and at last, after one too many insanely talented covers, I recanted the heresy of my friends RK recommendation.
Why? Because like all other great Magic artists, RK was an RPG guy as well, his work spanning so many different games and companies I would often look at his work and wonder aloud how he could keep up such a pace.
My unwarranted grudge broken, I quickly emailed RK to ask about his inclusion even though time was desperately short. As if in a great karmic slap to my bull-headedness RK gave me a resounding and excited YES! See, this just goes to show that prejudice is a terrible thing, be it racial, socio-economic, or even within a segment of the geek pantheon.
Thank you RK, for not only bailing me out on my quest for twenty, but also showing me just what a fool I'd been.
---
Lyssa, by RK Post
Click image for larger version.
RK Post is a cornerstone of turn of the millennia RPG art. His career began with TSR as an oil man, but its spanned fifteen years with ease, his work in a way reminding me of Jeff Easley in that he is ever the bride's maid and never the bride when it comes to having a genre game all to himself. His art always seems to take on pre-established fantasy and sci-fi lines but in doing so he helps redefine them with his sometimes humorous and other times macabre style.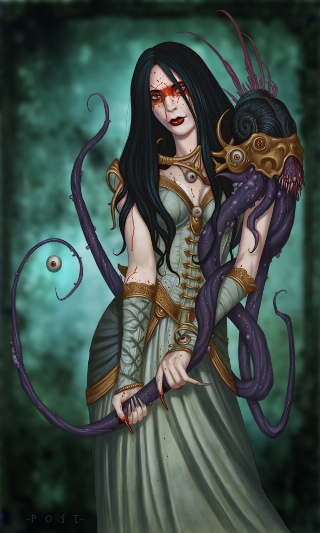 He is a reflection of Brom with a smoother edge and wider range, his art taking on form and light in a transcendent way. His style is like a blending of horror with high fantasy, a kind of Wes Craven meets J.R.R. Tolkien and in so doing each piece creates a unique imprint in our minds.
In his days among the RPG world he's put his irreplaceable stamp on Planescape, Deadlands, Alternity, Star Wars, Vampire, and dozens of others. This is his craft, the easy transition between genres while also maintaining a distinct and recognizable style.
Like Jim Holloway before him, RK takes an odd angle to his work, the humor in him coming out in the sometimes over-the-top and wild side of his art. To quote Todd Lockwood concerning RK, "Randy approaches fantasy art with a wink and a smirk, and a devilishly fun sense of humor. Tie a dead cat to the hip of a witch? Why not? Pierced lips and eyebrows? How about pierced arms? No one can top him for exquisite detail, and his black and white art is the absolute best out there."
It's this kind of roving free spirit that sets RK apart from the crowd, both in his art and in his life. We enjoy him for his levity, for his darkness, for his ability to press the envelope of common etiquette. Yet in all this, RK maintains a beauty in his work, both in the canonizing of a female form and the malevolence of a fallen man.
Here, RK does Lyssa justice once more, and he takes his well deserved place as one of those who've mastered the art of the RPG and put their mark on an ever changing genre.
To view Art Evolution 20 click here
Current Status: RK lives in the Pacific Northwest and still makes his dark creations in those rainy climes with the same mirth and mayhem you'd expect. You can take a look at his latest projects here.