Wizard Trails: On the Making of the Black Gate Trailer
Wizard Trails: On the Making of the Black Gate Trailer
Not so very many months ago, we posted Black Gate's first trailer ever.
We are still very proud of it. So proud, in fact, that we're bringing it up again! Oh my gosh!
I figured, in the light of Harry Connolly's posts about Walking the Trail(er), it would be interesting to interview the wizardly gentleman who aided and abetted (and conjured and conspired) in the making of Black Gate's own fabulous trailer.
So I wrote to Magill Foote and asked him some impertinent questions, and he was kind enough to answer them!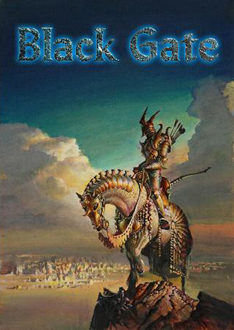 Black Gate (in the guise of MOI!): Hello, Wizard Boy!
Magill: Hello, Claire!
Black Gate: Let's do a How-To-Make-a-Trailer article on Black Gate! I will ask you impertinent questions, and you will tell me ALL your secrets on video editing!
Ahem.
Can you talk a little bit about where you trained? And/or what sort of tools you use for editing?
I'm actually self-trained. I've loved movies my whole life, and on my eighteenth birthday my dad gave me my first video camera. He also gave me a Firewire card to capture footage from my camera onto my computer so that I could edit it. The card came with some free video editing software called Ulead Media Studio; I still have the old CD somewhere.

It was a clunky program, but this was a decade ago and quality home PC editing tools were scarce. Anyway, it was something, and I used it to edit my first few video projects, which were mock trailers for kung fu movies and things like that. I've dabbled with a lot of different software like Adobe Premiere, Avid, and Final Cut Pro, but nowadays I use Sony Vegas Video to do my editing.
Black Gate: What are some of the difficulties in splicing and piecing and arranging?
Using computer software to edit video is kind of like playing a puzzle game. You have these tracks for audio and video and the clip you're manipulating appears as a little block on the track. Then it's just a matter of lining up the blocks so that everything plays the way you want it to. It takes some precision, but if you're dedicated enough, it's really quite easy to learn.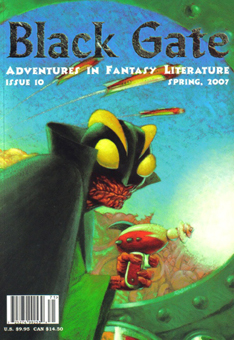 Beyond the software, you have to have an eye for when to place a cut. If you're a movie fanatic, this is a skill that you already possess. You need to be able to match action in the clips you're working with so that the final piece, be it a trailer or a photo montage or whatever, flows naturally. I've always said that good editing is editing that you don't notice at all.
Black Gate: What are some of your favorite things about trailer making?
Trailers are short and sweet. They don't take as much time to put together as something like a short film, and they allow for more creativity. A trailer is just a commercial, after all, so you can play around with how you want to display whatever it is you're selling.

In the case of the Black Gate teaser, I was trying to convey the atmosphere of the publication through the artwork and music that was provided for me. Frankly, with all the awesome source materials I was given, making the publication look good was a piece of cake.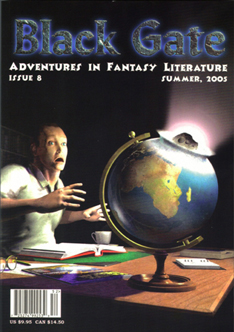 Black Gate: You've done trailers for Goblin Fruit and Black Gate now. Any differences in the experiences?
I made the Goblin Fruit trailers first, so they were much more of a learning experience. Generally I deal in video clips, so putting together an advert for a written word publication using artwork and music was initially a bit of a challenge. In the end, I had to find a way to make the still images seem dynamic, which is where all that panning and zooming comes into play.

Then it was a process of creating a rough cut of the trailer, sending it to the editors, and incorporating any changes they wanted until it took a shape that they found satisfying. When it came time to make a trailer for Black Gate, I had a much better idea of the kind of ad that would look classy given the media I had to work with.

On a side note, I had loads of fun playing with that image of the knight on the cliff that opens the Black Gate trailer. It has three distinct layers that are each revealed in a slow zoom-out from the far distance. There's so much going on in the picture that it's practically alive.
Black Gate: Have you done others?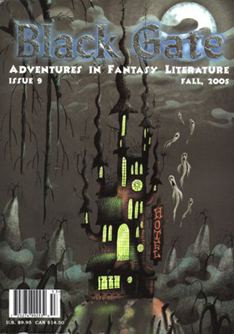 I've made a few phony grindhouse previews like this one. But as far as trailers for publications go, I've only made them for Black Gate and Goblin Fruit.
Black Gate: Have you been approached by any other magazines begging you to whip up some AWESOME TRAILERS for them?
Nope! But I'd love to make trailers for them! If there are any editors out there interested, feel free to drop me a line.
Black Gate: Is this something you want to do on a larger scale for book companies or film studios?
Book trailers are still a new concept to me. Selling books using a medium that's generally reserved for cinema is a neat idea, and I see a lot of potential in it. I'd happily make more if people wanted them, but I'm not sure the demand is very high yet to cut book trailers profesionally.

I'd love to make a living cutting movie trailers, though, and maybe someday I will. I'm currently doing some freelance work with an Ottawa-based production house, so I'm slowly climbing the ladder. But I've gotta pay my dues first! Don't ask what that entails. The gritty underbelly of the video editing industry is a dark and gruesome affair…
Thanks so much, Magill! What you do totally seems like magic to me.
In the meantime, it won't be too long before Black Gate 15 comes out (YIPPEEEEE!!!), so spread the word and infect your friendly neighborhood Social Networking Platform with deliciously viral Black Gate Trailer Love!