Rigor Amortis: Love and Zombies
Rigor Amortis: Love and Zombies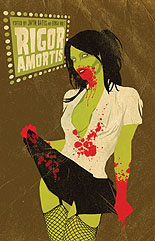 Rigor Amortis, a collection of zombie erotica and romance flash fiction edited by Jaym Gates and Erika Holt, was officially released October 1.
According to Jaym, who came by our booth and entertained us during slow moments at Dragon*con, Rigor Amortis started out as a joke on Twitter, and quickly snowballed into a  real book.  A bizarre and strange book, but still a book. Check out this description:
Horror and erotica. Zombies and romance. Rigor Amortis.
       Maybe a tender love story is your thing, a husband doting on his wife's rotting corpse. Or perhaps a forbidden encounter in a secret café, serving up the latest in delectable zombie cuisine, or some dirty, dirty dancing in the old-time honky-tonk. Voodoo sex-slaves and vending machine body-parts? You'll find those here, too.
       Whatever your flavor, these short tales of undead Romance, Revenge, Risk, and Raunch will leave you shambling, moaning, and clawing for more.
Contributors include Armand Rosamilia, Jennifer Brozek, Annette Dupree, Alex Masterson, Edward Morris, and dozens more. The sexy and disturbing cover is by Robert "Nix" Nixon.  Rigor Amortis is $14.95 (print) and $2.99 (e-Book) for 148 pages, and published by Absolute XPress.
More details are available on the website.  Show us a little zombie love, and support a quality small press.