Black Gate 14 Sneak Peek: "The Price of Two Blades" by Pete Butler
Black Gate 14 Sneak Peek: "The Price of Two Blades" by Pete Butler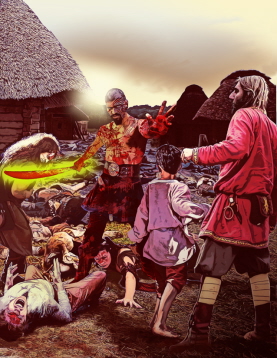 We finally reach the novellas as we commence Part II of our online inventory of the massive Black Gate 14, and we start with Pete Butler's "The Price of Two Blades," one of the most acclaimed stories we've published in some time. Here's what Luke Reviews said:
A story-teller and entertainer sits down to learn a new story for his repertoire, and finds much more. This is an absolutely brilliant piece. The novella flew by, playing both with action fantasy and the art of telling stories. One of the best pieces of short fiction I've read from 2010, it would be an injustice for this one not to win some awards.
Over at SF Site, Sherwood Smith says:
Butler's well-crafted, deceptively simple frame-tale holds its own with dark, convincing emotional resonance. A wandering bard arrives at a village, and is curious about its cemetery, which is full of beautiful marble headstones of the sort that only the rich can afford. When he sees that most of the headstones share the same death date, he's determined to get the locals to give him the story… and he hears the tale of the cost people paid in evoking magic, and the gods, to get rid of a bandit lord. The story builds to a solid double-punch that lingers effectively.
And John Ottinger III at Grasping for the Wind gushes:
Spectacular… a story of a pact made with old gods that costs a high and terrible price… Butler's clever build of suspense and mystery, use of religious magic that costs a price, and multiple viewpoint telling of the story keep the reader glued to the action as it unfolds. This is undoubtedly one of the best stories of this issue, perhaps one of the best Black Gate has yet published.
 "The Price of Two Blades" appears in Black Gate 14. You can read an excerpt here, and the complete Black Gate 14 Sneak Peek is available here. You can find additional reviews of the entire issue here.
Art by Malcolm McClinton.