Letters to Black Gate: Vampire Earth, Pete Butler and Gary Gygax
Letters to Black Gate: Vampire Earth, Pete Butler and Gary Gygax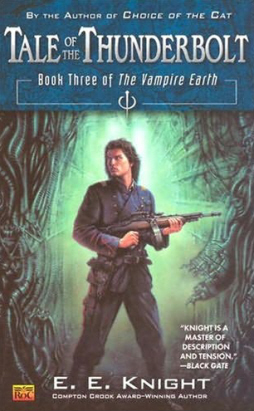 Jesse Moya tells us how she discovered Black Gate:
I recently started The Vampire Earth books by E. E. Knight.  On the cover of Tale of the Thunderbolt (Book 3), there is a brief descriptive quote about Knight, and Black Gate is listed as the source.
So I thought I would check out what Black Gate was all about. Unlike my younger days, I no longer have as much time to read, so I thought if your site did reviews I might learn about authors/series that I might otherwise never discover.
Noticed you were a magazine so I decided to see what kind of stories you published. I've noticed that I've gotten in the (bad) habit of sticking to the authors I know (on the basis that I don't want to "waste my time"), so I'm trying to expand.
In the last couple of years, I've caught back up to current music thanks to my oldest girl and her iTunes downloads. Now I just need help getting to know who good new authors may be, and I hope your magazine helps me.
Thanks, Jesse. Glad to see such as healthy attitude towards trying new writers (and magazines). I wish we saw it more often.
And wow — that's the first time we've ever won a customer from a cover blurb.
Hear that, Reviews Editor Bill Ward?  I want cover blurbs on every fantasy novel in North America. Get on it.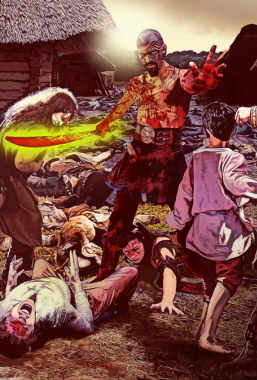 Long time subscriber Daniel Eness weighs in on whether to switch Black Gate completely to two column format, and Pete Butler:
The two-column novellas are a) perfectly readable, b) distinguished from the shorts and c) content-packing.  Do it every issue, for certain.  Black Gate 14 was the best issue yet.
Also – Pete Butler – more from him.  Publish his novel, whatever: the magic rocked, the perfect blend of doom, action and black humor, the survivor tale, how hope and honor can come from tragedy – man, all of it – this was a truly, truly great story.  If you can nominate it for any awards, please do so.  This thing was stellar.  It's early, but I have a hard time seeing how "The Price of Two Blades" won't be on some best of 2010 lists.
You'll be glad to hear we've made the decision to try BG 15 entirely in two-column format, Daniel.
The only reservations came from some of our PDF subscribers, who worried it might require squinting on e-readers, but we're working on ways to address that.
As for Pete Butler, Howard Andrew Jones and C.S.E. Cooney are already on a covert night mission to Pennsylvania in an attempt to lure Mr. Butler unto the Black Gate zeppelin, where he'll be chained next to James Enge and Todd McAulty and brought food and water only in accordance with strict word count milestones.  We'll keep you posted.
New subscriber Michael Jackson recently took advantage of our Back Issue Sale to purchase four back issues, including BG 11: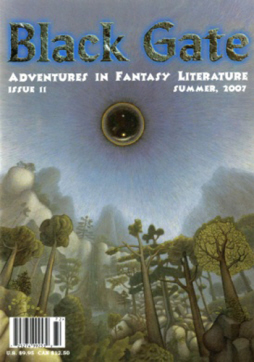 What a magazine! I can't believe I've only just found Black Gate. I've been missing out all these years and am overjoyed I'm now a follower. I will be haunting the back issues web page to make sure I can collect every issue.
I really enjoyed the content in Issue 11. You have some quality writers, and the stories really pull you along. They are just the kind I like to read. I like the different lengths, especially the slightly longer stories which are more to my taste — and I find are quite a rarity in many other Fantasy & Sci-fi magazines. That is a major plus for me, and has made me a major fan.
Then there is your passion for RPGs — and specifically D&D — which really got my attention when I discovered the articles on your website. I'm a major D&D fan and have been since 1991 (19 years!) And it's nice to see up to date information on RPGs  in your pages.
I'm still amazed at your story of how you met the creator of Knights of the Dinner Table. I love those guys and their great comics! It proves how small the world can be.
And then there are your meetings with the greatest names in the industry, such as with Gary Gygax himself; I really appreciated those articles. What I would give to be in your shoes for those meetings!
You've had quite a life and I couldn't believe it when I read about Microsoft buying your company, and that you worked on the first version of Internet Explorer! I have worked in IT for twelve years as a Technical Architect now, but previously I was a help desk/support bod.
Your connections and your hobby have looked after you well.
Thanks, Michael. Your last sentence says it all. I've been extraordinarily lucky in the friends I've been fortunate enough to make, and my hobby has indeed cared for me well.
Glad to hear you've enjoyed our longer stories, and our RPG articles.  There's lots more to come.