Werewolves and Ghost-powered Zeppelins: Sample Chapters from The Wolf Age Now Available
Werewolves and Ghost-powered Zeppelins: Sample Chapters from The Wolf Age Now Available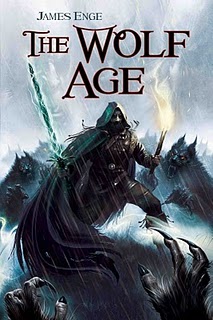 James Enge tells us (rather gleefully) that "A slab of The Wolf Age is up at the Pyr samples site. Werewolves. Ghost-powered zeppelins. The usual stuff."
The Wolf Age is the third novel of Morlock the Maker.  Morlock, the soft-spoken hunchback and recovering alcoholic who may also be the finest artificer the world has ever seen — not to mention a formidable swordsman — featured in Enge's first published story, "Turn Up This Crooked Way," in Black Gate 8, and has appeared six times (so far) in our pages, most recently in Black Gate 14.
Tired of dominating Black Gate's pages with an iron fist, Enge turned to more ambitious goals, producing the first two Morlock novels Blood of Ambrose (2009) and This Crooked Way (also 2009 — it makes other writers look bad, doesn't it?), both published by Pyr.
Blood of Ambrose was recently nominated for the World Fantasy Award, the obvious next step in Enge's ruthless plan for domination of Western civilization.
You can read the first two chapters of The Wolf Age at the Pyr website, and see for yourself how Enge's evil scheme is taking shape.  It's not to late to stop him.
Werewolves. Ghost-powered zeppelins. On second thought, it probably is too late.  Join the Black Gate staff in line to sign up as Enge's evil henchmen, and get your black leather tunics and infrared goggles before they're all gone.