Harry Connolly's Game of Cages
Harry Connolly's Game of Cages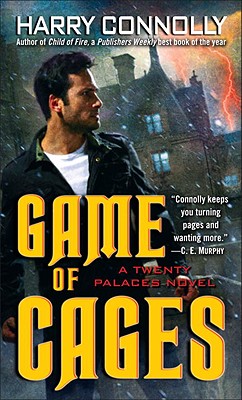 The most interesting title waiting for me when I returned from our adventures at Dragon*Con was Harry Connolly's Game of Cages, the latest in his Twenty Palaces series and the sequel to his first novel, Child of Fire.
We've been big fans of Harry since his first story appeared in Black Gate 2, and his "Soldiers of a Dying God" (BG 10) is one of the finest short pieces we've ever published. It's been great to finally see him get some well-deserved recognition.  Child of Fire received some excellent notices, and Jim Butcher said it contained "Excellent reading… delicious tension and suspense." Here's the cover copy to Game of Cages:
As a wealthy few gather to bid on a predator capable of destroying all life on earth, the sorcerers of the Twenty Palace Society mobilize to stop them. Caught up in the scramble is Ray Lilly, the lowest of the low in the society — an ex-­car thief and the expendable assistant of a powerful sorcerer. Ray possesses exactly one spell to his name, along with a strong left hook. But when he arrives in the small town in the North Cascades where the bidding is to take place, the predator has escaped and the society's most powerful enemies are desperate to recapture it.
We tracked down Harry at the exclusive club where he now writes, between eating oysters and sipping Châteauneuf-du-Pape. Before we were thrown out by the bankers at the next table, Harry did say a few words about his new novel, which Howard Jones managed to transcribe in the hidden notebook he always carries in his pocket:
Ray Lilly is an ex-con, an ex-car-thief, and current minion in the Twenty Palace Society, a secret organization that protects our world from deadly, magical "predators." Ray may only be a driver — and a decoy — but he's the only operative close enough to deal with an emergency situation: An auction has gone terribly wrong releasing a predator into a small town, and the bidders — murderous, wealthy bastards all — tear the town apart looking for it. Ray just has to hold out until his sorcerer bosses arrive, but it may already be too late.
Howard had a few choice words of his own about "wealthy bastards" as we dusted ourselves off, but at least we got an exclusive quote.  After his third novel, we'll probably have to bribe his bodyguards just to get close to Harry. Don't be one of the last ones to catch on. Check out Game of Cages today — the first three chapters are available online, and the book can be found at better bookstores near you.