Jane Frank's SF&F Artists of the 20th Century
Jane Frank's SF&F Artists of the 20th Century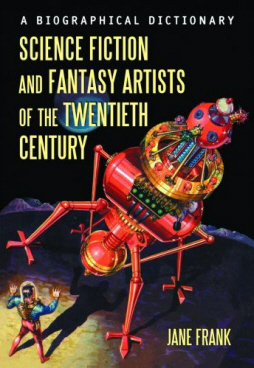 Science Fiction and Fantasy Artists of the Twentieth Century: A Biographical Dictionary, by Jane Frank
McFarland Publishing Co (534 pages, $148.00, February 2009)
My initial interest in amassing my collection of SF & Fantasy magazines began with the appeal of the cover art.
I jumped on Robert Weinberg's Biographical Dictionary of Science Fiction and Fantasy Artists when it was published in 1988. This work has been virtually alone since then as a definitive coverage of the lives and work of most all of those whose art graced the genre pulps and digests. As with Mike Ashley's work on the history and accounting of the magazines themselves, Weinberg's book took front and center on my shelf of core reference books which explain so well to me what I have in my collection.
Reference books of this sort are few, and a work of passion, and as such become updated only with supreme will and dedication, as in the current case of Mike A's updating of his original 4-volume history of the science fiction magazine. I really hadn't expected a similar effort to come out of the Art segment of the field. Fortuitously it has now appeared.
Jane Frank, generally well-known to collectors of SF&F original art has, with the blessing and assistance of Mr. Weinberg, refined and extended the coverage of BDoF&SFA to 2006 in A Biographical Dictionary: Science Fiction and Fantasy Artists of the Twentieth Century. Among those whose assistance she acknowledges and gives thanks are Fictionmags members Doug Ellis, Mike Ashley, Andy Sawyer, and Dave Langford, and she cites as valuable tools in her research the works of members Terry Gibbons (VISCO), Phil Stephensen-Payne (Galactic Central), Bill Contento, Steve Miller (Locus Index), John Clute (Encyclopedia of Science Fiction), and Luis Ortiz ( The art Of Emshwiller).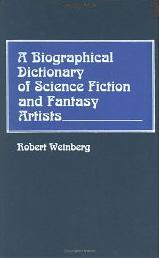 Just skimming through the roughly 400 biographies I discovered many new and useful dates, not present in the Weinberg book, pertaining to various artists. The entries, in addition to the biographies themselves, provide extensive listings of the artist's magazine and book appearances within the genre, along with notes citing the sources of the information for the entry as a whole.
Artist's pseudonyms are cross referenced to the artist's real name where the entry for that artist actually appears. The cover illustration reproduces a Robert Fuqua painting for the April 1939 Amazing Stories, which prompted me to look up "Fuqua" in the text, which cross-referenced me to 'Joseph Wirt Tillotson', 'Fuqua' s real name .
Robert Weinberg provides a 21-page Historical Overview of the field to the mid-70s and Jane Frank extends that by providing a 33-page Historical Overview of the field from the 70s to 2000. There is also a useful appendix listing the genre art awards, both US and UK, through 2006.
Beginning with the entries of a few of the artists with which I am familiar I picked up on a few proofing errors and one fact goof ( Alex Schomburg being credited with one of Kenneth Fagg's Winston jacket covers — Mystery of the Third Mine — but the cover is correctly attributed in Fagg's entry) and there are probably others, but likely nowhere near enough to diminish the usefulness and comprehensiveness of the work.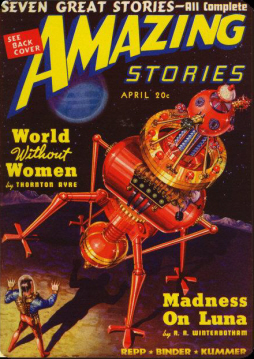 My one real criticism is its perversely high price tag. At a list price of $148 it is the sort of book a library with extensive SF/F/H magazine holdings should acquire regardless, as it is a basic key to understanding the illustration element of such a collection. For myself, I reckon the desirability of reference books according to how close they come to the center of my target interests, and this one is a virtual bullseye.
Still, I found ways of diminishing the price somewhat. My B&N membership brought it down to $108, and along with free shipping, ordering it on-line from B&N thru E-bates, and rebates from my B&N Mastercard netted it out at $84.00.
Being as it is a McFarland publication I would not expect to see it appearing in any of the catalogs of remainders. Barnes & Noble treats it as a textbook, which generally keeps it from any additional advertised discounting over B&N's initial discount. Were McFarland aiming for any other market than libraries, marketing savvy would dictate a CD version that would likely substantially reduce the price of this book.
---
George R. Morgan has been a fan of Science Fiction and SF art since 1952. A renowned collector, he's built a complete run of all major and most minor U.S. science fiction magazines since 1926. He's been a member of the Fictionmags list since May 2001.