Rogue Blades Entertainment special Black Gate subscription offer
Rogue Blades Entertainment special Black Gate subscription offer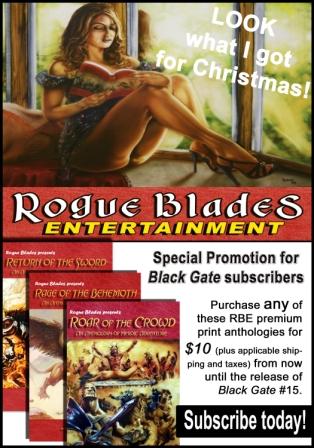 Rogue Blades Entertainment, publisher of fine fantasy anthologies such as Return of the Sword and Rage of the Behemoth, announced a special promotion on some of their newest titles in the pages of Black Gate 14.
Last week they made the details public on their website:
Now that Black Gate subscribers are receiving their 14th issue, it's time to reveal a very special offer brought to new readers in a combined effort by RBE and BG. From now until Black Gate 15 is released, anyone can pick up their choice of Return of the Sword, Rage of the Behemoth, or Roar of the Crowd for $10 (plus tax and shipping) and a subscription to Black Gate!
That's correct – all Black Gate subscribers get $6.99 off the cover price of one of three excellent anthologies. The offer is open to new and existing subscribers.
Return of the Sword, Rage of the Behemoth, and Roar of the Crowd contain stories by the rising stars of heroic fantasy, as well as more established names such as James Enge, Bill Ward, Ryan Harvey, David Bischoff,  Howard Andrew Jones, E.E. Knight, C.L. Werner, Mary Rosenblum, Brian Ruckley, Harold Lamb, and Richard K. Lyon & Andrew Offutt.
Here's what Theo said about Rage of the Behemoth in his review right here on the BG blog: 
One of the more consistent anthologies I have had the good fortune to read. Editor Jason Waltz has done an excellent job… Rage of the Behemoth is an intriguing glimpse into a multitude of savage worlds. The anthology is a throwback to the glory days of Burroughs and Howard, with an icy, ominous edge.
How do you claim your discount?  New subscribers can select the anthology of their choice on as part of their order on our subscriber page. 
Already a subscriber? Just e-mail rbe@roguebladesentertainment.com, mention your Black Gate subscription, and request the anthology of your choice for just $10 (plus shipping).
Black Gate. Don't thank us. It's our job.