Who Fears the Devil?
Who Fears the Devil?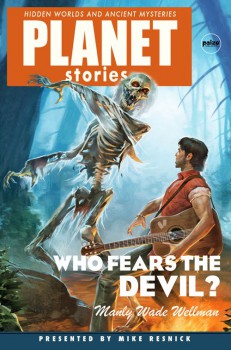 Who Fears the Devil?
Manly Wade Wellman (Paizo Publishing, 2010)
Paizo Publication's Planet Stories has brought forth another collection of the kind of grand and weird fantasy that the chain bookstores want to keep hidden from you. Who Fears the Devil?, the complete tales of Manly Wade Wellman's "John the Balladeer" character, is one of the Planet Stories volumes I've most anticipated; there's no other fantasy character quite like John, and no one else but Wellman could have created him. He's a contemporary fantasy hero who uses folk songs instead of swords, and faces wonders from the mountain legendry of Appalachia. He's part Weird Tales, a touch of Unknown, plus Pete Seeger and Johnny Cash.
Also called "Silver John" in promotional material because he strings his guitar with silver, but always simply referred to as "John" within the stories, Wellman's hero is a variant on the bard of the Middle Ages who wanders the contemporary Appalachians. Or semi-contemporary; the setting is really a fantasy land based on Wellman's love of Appalachian folklore and the spirit of its musical tradition. In the stories readers will occasionally encounter cars, trucks, air travel, and mention of John's Korean War service, but most of the time they will find it easy to imagine that this is an Appalachia frozen in the nineteenth century, when stories and songs at the hearthside were thinly veiled truths about wizards, witch-folk, and strange beasts.
John's songs help combat evil, as do the silver strings on his guitar. (One of the few problems I have with the stories is that the "silver against supernatural" concept turns up a few times too many.) John not only sings the ballads, he's a collector, and in some of the stories ("The Little Black Train," "Vandy, Vandy") his search for old ballads brings him into the action. "Call me a truth seeker," he tells one curious inquirer, "somebody who wonders himself about riddles and life." When then asked if he's a "conjure man," he answers: "Not me…  I've met up with that sort in my time, helped put two-three of them out of mischief. Call that part of what I follow."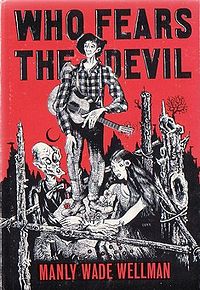 This new collection builds upon the original Who Fears the Devil? that Arkham House published in 1963. That volume brought together all the Silver John stories that had appeared in The Magazine of Fantasy and Science Fiction:
"O Ugly Bird!"
"The Desrick on Yandro"
"Vandy, Vandy"
"One Other"
"Call Me from the Valley" (first published as "Dumb Supper")
"The Little Black Train"
"Shiver in the Pines"
"Walk Like a Mountain"
"Old Devlins Was A-Waiting"
"On the Hills and Everywhere" and
"Nine Yards of Other Cloth"
Wellman continued to write more short stories of Silver John, right up to his death in 1986:
"Trill Coster's Burden"
"The Spring"
"Owls Hoot in the Daytime"
"Nobody Ever Goes There"
"Can These Bones Live?"
"Where Did She Wander?" (the author's last finished work)
To round out the collection, the Paizo Edition includes two supplemental stories:
"Sin's Doorway"
"Frogfather"
More about those later.
The earliest story, and one of the finest, is "O Ugly Bird!", which was published in The Magazine of Fantasy and Science Fiction in 1951. The piece gives readers everything they need to know about Silver John and Wellman's colloquial — but still easily readable — conversational style for his protagonist. John comes across a vile man named Mr. Onselm, who torments locals with his "hoodoo man" powers and a bizarre giant bird that obeys him. John figures out the connection between the buzzard creature and cruel Mr. Onselm, as well as their weakness, and manages to set things a-right. "O Ugly Bird!" has a simple story, but its Wellman's confidence with John's voice and his sense of poetry in even simple descriptions that make it a sumptuous experience. It's the great gateway to the rest of the collection.
Of the original eleven tales, "The Little Black Train" is my personal pick for the best. Train songs are standards in folk music, and Wellman uses one as both catalyst and cure for a curse laid on a lady. The invocation of a ghost train coming to get a woman for her sins is a powerful image.
Another of the best stories — and probably the strangest of all of them — is "The Desrick on Yandro." The title sounds like a Clark Ashton Smith story (a sequel to "The Abominations of Yondo" perhaps?), but it's actually the name of a song that John sings at a party about a type of house, known as a desrick, built on a hill. The song attracts the attention of Mr. Yandro, who wants John to take him to that hill, since he feels it has important family meaning for him. That the hill might have gold on it is another reason it had gotten Mr. Yandro's attention. John does not play the overtly heroic role here; he's an observer of the weird monsters (the Toller, the Bammat, the Behinder) and weird fate that await greedy Mr. Yandro on the hill.
John faces another evil magic man in "Vandy, Vandy." The story combines a bit of U.S. history into its short space, with the Salem Witch Trials and George Washington playing important parts. "One Other" is the type of story that would have found a welcome home in Unknown if the magazine were still running when Wellman was deep in his Appalachian phase. It deals with an intrusion from an alternate dimension—the giant creature of the title — but Wellman couches it in terms that fit his setting.
Since this is a collection of Appalachian Mountain stories, you know there's going to be feud in there somewheres. John gets involved in one that should have died out long ago in the powerful "Call Me from the Valley." The famous Hatfield and McCoy feud crops up as the background to "Old Devlins Was A-Waiting," which begins with a small college doing and experiment with ESP and diagrams, and ends with Silver John finding out how "names changes in the old songs, but the power is still there."
"Shiver in the Pines" (which would have made a good alternate title for the collection) moves toward horror when John and four other men seek out a mine built by the mysterious Ancients to find a treasure of gold. The idea of a primordial and prehistoric evil gives the story a Weird Tales patina. In "Walk Like a Mountain," Silver John has to save a village from Rafe Enoch, "a giant of Genesis blood," who stands ready to drop a flood down on it. This story is a good example of how Wellman wove the religion of the mountains in the stories.
"Nine Yards of Other Cloth", the last of the original eleven Silver John stories collected in the Arkham House Who Fears the Devil?, brings John's saga to what would seem a logical stopping point. John faces a man with black fiddle and witch-power who plans to sacrifice him to a monster called Kalu. But Kalu turns out to be a classic example of "a monster who is not a monster," and John closes the story in situation he would never have imagined for himself. If the volume had stopped here, as it once used to, it would still be completely satisfying read.
But there is plenty more to come, and the following story is another of the high points. John's traveling companion Evadare takes on "Trill Coster's Burden" when she agrees to accept the sins of a wicked dead woman. Although this story seems to make further changes to John's life, it has all vanished by the next story, "The Spring," where John is once again a lone figure. He fights a witch-woman who wants to possess a spring with healing properties so she can charge people for it; John and his friend Zeb, with mountain-bred hospitality and charity, want the waters to belong to everyone.
"Owls Hoot in the Daytime" is a straightforward monster tale, with John confronting what may be the Biblical Moloch in an entrance to a mountain. The creature is one of Wellman's most interesting beasts, and the story belies its simplicity with genuine tension and the atmosphere of an ancient world within the new. A familiar folk melody gets trotted out in "Can These Bones Live?", making the most effective use of music in any of the John stories. This horror tale of dry bones on the move also scored the excellent new cover illustration by Kieran Yanner.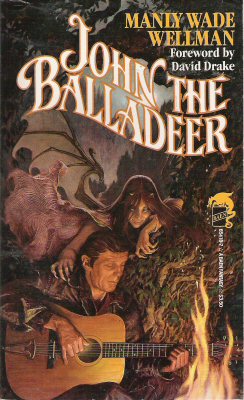 Two of the stories alter the standard first person point-of-view style. John is still the POV character in "On the Hills and Everywhere," but he acts as only the narrator. He tells a Christmas story to an audience about two arguing neighbors who are brought together when a carpenter decides to show them the foolishness of their anger. It feels preachy until you realize that Wellman was trying to create a new fable that sounds like an old one—and he succeeds. With the story "Nobody Ever Goes There," Wellman switches the viewpoint away from John for the only time and uses third person. It comes near the end of the collection, and it's the appropriate time to get outside view of the character and add an extra layer to him. The story is a memorable piece of town-lore about a young man who wants to find out why nobody ever goes to the empty part of town on the opposite side of the river.
Wellman's final completed story, "Where Did She Wander?", is a good way to end, with John looking into the hanging of a witch-girl and meeting fiery consequences, but unfortunately it's also good enough to make you wish Wellman could have written more.
There are two more stories in Who Fears the Devil?, which are proto-Silver John tales that predate that character's introduction in "O Ugly Bird!" Both "Sin's Doorway" and "Frogfather" appeared in Weird Tales in 1946 and take place in a rural fantasy setting similar to that of Silver John. The main character is unnamed in "Sin's Doorway" and called Johnny in "Frogfather," and is only loosely akin to Silver John. He has no guitar, nor does he have John's righteous strength. The stories are adequate for Weird Tales, and made more interesting for showing how much Wellman's voice as a writer would change in the setting when he discovered his key character.
Sprinkled throughout the stories are prose poems that Wellman originally wrote for the Arkham House edition to serve as "links" between the longer pieces. They aren't presented in their original order, and don't need to be. Some of the best moments in Silver John's career occur in these tiny gems, most notably "The Stars Down There" and "You Know the Tale of Hoph," which is a perfect story in miniature. The opening vignette, "Call Me John," is as perfect an introduction as you could want to the character.
The new Planet Stories edition contains two introductions, a new one from Mike Resnick and a reprint of a 1988 introduction that Karl Edward Wagner did for an expansion of Who Fears the Devil? titled John the Balladeer. Wagner wrote superb introductions, and this one is no exception. Resnick's introduction gives a warning to readers to slow down and savor the stories one at a time. I'll put an addendum on that: read the stories out loud. The music of Silver John isn't just in his songs, but Wellman's own words.