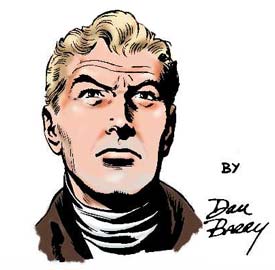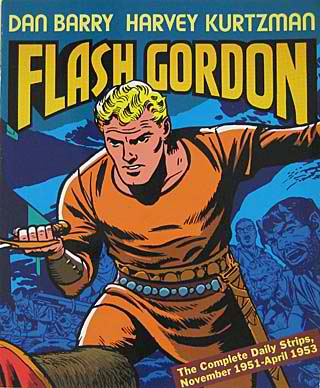 "The Swamp Girl" by Dan Barry was serialized by King Features Syndicate from October 31 to December 31, 1955. Just as Dan Barry guided the strip closer to its origins, he took two sidesteps in introducing a back-story for Dr. Zarkov that Alex Raymond never intended. "The Swamp Girl" introduces us to a hot-tempered, beautiful young woman called Zara, whose mother was the sole survivor when her rocket crashed on the swamp world of Malagua twenty years before.
As the story begins, Lisa (Zara's mother) is succumbing to malaria just as her daughter has finally succeeded in repairing their rocketship. Zara sets off to visit her father's home world of Earth and fulfill her mother's dying request that her daughter bring the father she has never met to see her mother before she dies, so that her mother may reconcile with him.
Zara arrives on Earth with her pet black panther, Octavio. Their ship's coordinates take them to the desert town where Zara's father, Dr. Zarkov, lives. After upsetting the neighborhood and evading the police, both the swamp girl and her panther reach their destination.
---