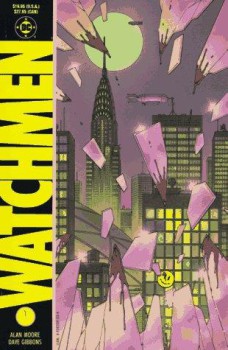 I've been musing lately about the conventions of the comic book form we've inherited from the past and how they match to the sensibilities of the present. They don't easily fit without suppressing either the core superhero conceits or the realities of the modern world.
Perhaps the most famous crashing of the two was Alan Moore's Watchmen, which slammed the conventions of the superhero genre into the hard, hard wall of modern, adult sensibilities. It made a pretty mess of the superhero genre.
Most of the traditions of the superhero genre were born in a very brief period between 1938 and 1945, a time which birthed Superman, Batman, the Justice Society, Captain America, the Submariner, and the Human Torch, as well as many other less memorable characters.
The idea of the secret identity, of defending truth, justice and the American way, of the repeated conflict with the nemesis villain, and of just relentlessly defeating crime, were all in those first seven years. The only idea I can think of that seems to me essential to the superhero genre that was not formed in those times is the idea that the characters never really die (except for Uncle Ben, Gwen Stacy, and Bucky, as the famous rule inaccurately goes).
---