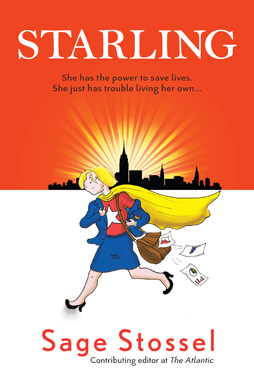 There's a suspicion common in genre circles when a writer or creator from 'the mainstream' uses genre conventions or plot points. It's sometimes a justified suspicion, as the writer unfamiliar with genre falls into cliché or loses control of their material through inexperience with the form. But sometimes something else happens: fresh eyes can find new truths. And every so often somebody approaching a genre by starting at square one can show why the classic genre material works in the first place — and even twist that material a bit to find new life for it going forward.
I'm prompted to this reflection by reading Sage Stossel's graphic novel Starling, an unconventional super-hero story. Stossel readily admits that she wasn't a super-hero fan befoe starting the book. As she says:
I happened to walk past Newbury Comics in Harvard Square, and I noticed all these superhero-related materials in the window and found myself wondering why people are so into that stuff. After all, I figured, if you really think about it, being a superhero would be kind of a logistical nightmare. And it occurred to me that there might be some humor to be mined from that.
It's an obvious idea, and it's not wrong — just something super-hero comics have been investigating since at least the 1960s and the early Marvel Comics. Arguably it's something underlying a lot of early DC books, as well: the tension between two identities and trying to succeed at both without compromising either. Stossel doesn't seem terribly aware of this background, but as it turns out, she doesn't need to be. She's a skilled enough storyteller that she makes her story work, with charm and humour, and say something about super-heroes and super-hero stories into the bargain. However unintentionally, Starling becomes an odd mix of classical ideals (the super-hero who is a hero, striving through the compromises of everyday life to try to do something they feel is right) and new directions.
---