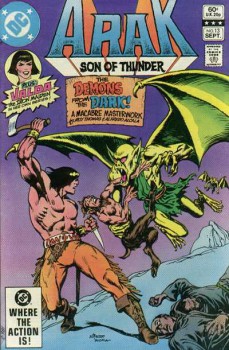 Issue 13, "The Demons from the Dark!" (or "Demons from the Caves of Night!", depending on whether you go by the cover or by the splash page), marked a second year for the series and DC seemed to have a contender on their hands to cash in on sword-and-sorcery popularity of the day.
The issue is dated September 1982. Clash of the Titans and Dragonslayer had brought mythological fantasy to the big screen a year earlier (Greek and medieval respectively, which Roy Thomas was fusing here in novel ways). Conan the Barbarian that summer — at the very time this comic hit the racks, since dating on monthly periodicals tends to lag by a month or two — was turning Arnold Schwarzenegger into a star at the drive-ins and the newfangled multiplexes. Dungeons & Dragons was firmly established as a cultural phenomenon.
Yes, legendary wizards, warriors, and monsters were becoming fixtures in the American household and DC had scored a coup by getting for this foray into the genre Roy Thomas, the writer who had turned Conan into a successful comic franchise over at their rival Marvel.
That Arak never spun off his own movie, or television cartoon, or toy line (he did get one scarce figure in 1982 from Remco) is no basis on which to judge the series. So let's dive right back in to the story where we left off: with one dead centaur, one missing Valda, one new satyr sidekick, and one befuddled Arak…
We open with Arak and Satyricus coming upon a band of Saracens slaying monks. Satyricus stays true to his established character trait of wishing to avoid confrontation (unless said confrontation involves young, nubile women). You can probably guess what Arak thinks about Satyricus's suggestion of giving the scene of carnage a wide berth. As the narration informs us:
"The Quontauka's only answer is a black-maned, well-chiseled head thrown wildly back, and a battle cry which echoes through these Grecian hills: 'HAIII-YAAAH!'"
Satyricus is clearly going to be providing plenty of comic relief throughout his stint: "I – I wish you wouldn't DO that! You nearly scared the ichor out of me!"
---