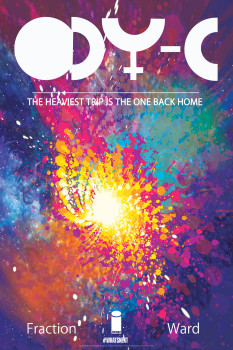 I love Classical literature. I have since the third grade, when I first picked up a copy of D'Aulaire's Greek Mythology. That love drove my choices in schooling until fairly recently, and there was no work I enjoyed more than Homer's Odyssey.
You may have noticed.
I also love comic books. I'm much more of a dabbler on that front, but I'm always looking for a new book to follow.
So when I heard that Image Comics was putting out Ody-C, a gender-bent Sci-Fi version of the Odyssey, I was excited. Actually, I think I squealed, screamed on Facebook, and immediately made plans to blog about the title here. This past weekend, I finally sat down and read through the premier issue.
And I still don't know what I think. So while I will tag this a review, call it more a series of impressions and a place for discussion, while I wait for the next issue (which will be available December 24th).
Now, when I say I don't know what I think, that doesn't mean that I don't like it. I think I do. In fact, I think I'm going to love it. But Ody-C is so deeply, intensely strange that it is taking me a long time to wrap my brain around it. Matt Fraction and Christian Ward have come up with a work that is thoroughly alien, shocking, and surreal.
---