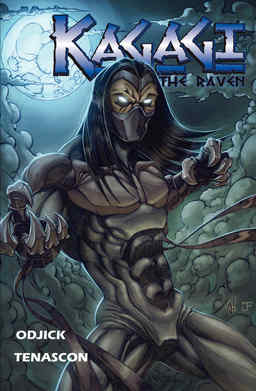 In Ottawa, I get to talk to local game designers, local writers, local comic book publishers, local artists and novel publishers. I'm not trying to be a booster of Canada's capital or anything, but we have some wickedly cool stuff going on around town.
This weekend, at Can-Con, Ottawa's Literary Science Fiction, Fantasy and Horror Convention, I set up an interview in front of a live audience to talk to Jay Odjick, an Algonquin graphic novelist, to talk to him about being a writer and artist and about Kagagi (pronounced with two hard Gs).
Jay is a loud, hilarious, talented, self-deprecating, straight-talking comic creator who earlier in the week had been interviewed by CBC radio and afterwards tweeted "…managed to talk for twelve minutes on the radio without swearing."
His immediate lead story about where and when he started to be a comic creator started when he was five years old and he was part of a two-man con aiming to unmask a celebrity Spider-Man to prove that it wasn't the real Spider-Man.
Some years ago, like many comic creators, Jay made up his own superhero. But instead of being just another caped creation added to the immense pantheon of comicdom, he created the startlingly original Kagagi, based on the legend systems of the Algonquin tribe.
Central to this is the Wendigo curse (the supervillain) that is inflicting itself upon not only humanity, but those other parts of the Algonquin legend structures.
---