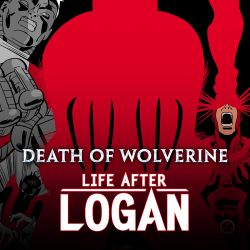 I recently interviewed Marvel Comics Associate Editor Jake Thomas, and now I'm having an e-conversation with Xander Jarowey. Xander is the Assistant Editor on All-New X-Men, Amazing X-Men, Uncanny X-Men, Guardians of the Galaxy and Legendary Star-Lord (all under Editor Mike Marts), Nightcrawler, X-Force and Magneto (under Editor Daniel Ketchum), and All-New X-Factor and Guardians Team-Up (for Editor Katie Kubert). He's recently become the editor on Amazing X-Men and has also edited the Death of Wolverine: Life After Logan, and is the Editor of the upcoming X-Tinction Agenda.
Thanks for taking the time for the interview, Xander. How long have you been with Marvel and how did you get in? Internship? Job application? Press gang?
Thanks for having me! My path to Marvel was circuitous. I moved to New York to work in theatrical management. I worked a few internships and had a ton of fun, but I came to a point where I wasn't 100% sure that I wanted to stay in the industry. I'm a huge comics fan and Marvel has always had a special place in my heart. Maybe I should blame it on the X-Men cartoon?
I looked at the Marvel site on a whim and saw an editorial assistant job. It sounded a lot like what I'd been doing in theatre. I got an interview, but lost the job to Devin Lewis (who is now the assistant editor for Nick Lowe on Spider-Man). He doesn't know it yet, but payback is coming one day. Marvel got in touch with me after the interview and asked if I'd be interested in interviewing for an assistant editor position. I had to hold in my fanboy squeal. They gave me a script and a day to give them notes. After that I went through a series of interviews and somehow hoodwinked them all into hiring me. It's been a fantastic year and a half ago since then.
---