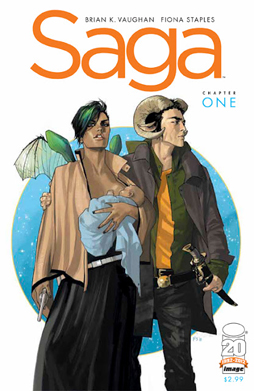 A few months ago, the 2013 Hugo Award for Best Graphic Story was given to Saga, Volume 1, the first trade paperback collection of the ongoing Saga comic book. Written by Brian K. Vaughan, with art by Fiona Staples (and lettering and design by the Fonografiks studio), the book deserved the win. It's the first chapter in a promising story and manages to establish a simple and powerful basic situation for the main characters, while also creating a complex world, backstory, and array of subplots. If it sometimes seems overbroad, too accessible and glib, it also has a deep and original sense of history to its setting, and a design sense that makes that setting live.
It begins with a birth, a battle, and an attempt to escape war. In a galaxy (presumably) not our own, there is a planet named Landfall, where a species of winged humanoids have developed high technology; orbiting Landfall is the moon Wreath, where magic-using horned humanoids live. Moon and planet have always been at war, but have reached the point where they can't battle directly in their home solar system without risking their own destruction. So the war's fought on countless fronts throughout the galaxy, with alien species everywhere forced to choose sides. One front is the planet called Cleave, where the fighting's especially vicious; there, a woman from Landfall, Alana, has fallen in love with Marko, a former warrior from Wreath. They've run away from the war and the book begins with the birth of their daughter — and their discovery by agents of both sides.
The story moves quickly. Factions enlist various agents to track down the young family. And these agents have stories of their own. The book cuts quickly between plot strands, narrated by the newborn daughter speaking from some unspecified point in the future. There are ghosts, robots, pleasure planets, bounty hunters, mass battles, and all the familiar genre furnishings. There are also less familiar things, born from the mash-up of genres. Forests of rocketships. An interspecies romance novel. And a grumpy-looking lynx who can detect lies. It's an inventive, fast-moving story about parenthood and art that never overstrains its central metaphors.
---