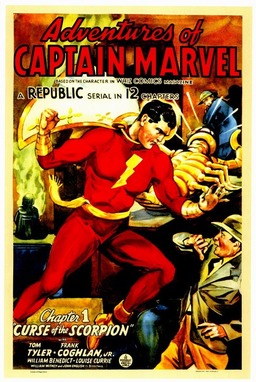 Pop quiz. Who was the first superhero to make it into film?
Yes — you in the back…what? Spawn?! Sit down! Okay… you there, in the Marvel Zombie tee-shirt… no, it was not Wolverine, though there may never be another superhero movie made without him. Yes, I see you… Superman? Good guess, but nope. Batman? Warmer, but still no.
The first superhero to make it into the movies was Captain Marvel (or as his four-color arch-nemesis, Dr. Thaddeus Bodog Sivana, contemptuously dubbed him, "That Big Red Cheese"), in the 1941 serial, The Adventures of Captain Marvel.
Captain Marvel and his alter ego, young radio reporter Billy Batson, made their first appearance in Fawcett's Whiz Comics #2, in February of 1940. The character, the creation of writer Bill Parker and artist C.C. Beck, quickly became extremely popular, and for the remainder of the 1940′s, comics featuring him and the other members of the "Marvel Family" often outsold those featuring Superman.
National Periodical Publications (commonly known to comics fans as DC) tried to nip the rivalry in the bud by suing Captain Marvel out of existence in a legal wrangle that wouldn't be decisively resolved until 1954. Well before that, though, Republic Pictures hopped on the bandwagon with The Adventures of Captain Marvel, a twelve-chapter serial that aficionados of the form regard as one of the best ever made.
The serial was directed by John English and William Whitney and written by the team of Ronald Davidson, Norman Hall, Arch Heath, Joseph Poland, and Sol Shor. They all keep the pot bubbling with action, peril, suspense, red herrings, and the crackling, popping energy that seems to be a unique feature of the best cliffhanger serials.
---