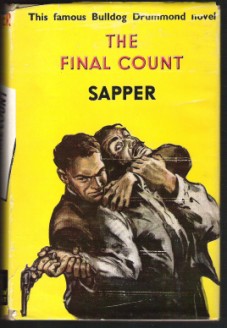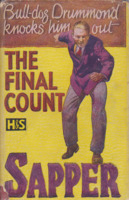 Sapper's The Final Count (1926) saw the Bulldog Drummond formula being shaken and stirred yet again. The first four books in the series are the most popular because they chronicle Drummond's ongoing battle with criminal mastermind Carl Peterson. The interesting factor is how different the four books are from one another. Sapper seemed determined to cast aside the idea of the series following a template and the result kept the long-running series fresh, as well as atypical.
The most striking feature this time is the decision to opt for a first person narrator in the form of John Stockton, the newest member of Drummond's gang. While Drummond's wife, Phyllis, played a crucial role in the first book, she barely registers in the early sequels. One would have expected Sapper to have continued the damsel in distress formula with Phyllis in peril, but he really only exploits this angle in the second book in the series, The Black Gang (1922).
The Black Gang reappear here, if only briefly, and are quickly dispatched by the more competent and deadly foe they face. This befits the more serious tone of this book, which has very few humorous passages. The reason for the somber tone is the focus is on a scientific discovery of devastating consequence that threatens to either revolutionize war or end its threat forever. Robin Gaunt is the tragic genius whose invention of a deadly poison that could wipe out a city the size of London by being released into the air proves eerily prescient.
---