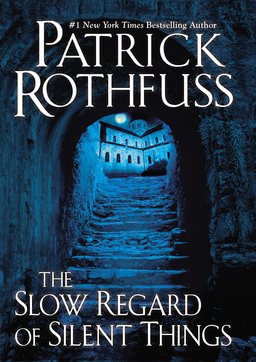 Patrick Rothfuss's The Kingkiller Chronicle includes only two volumes so far — The Name of the Wind, reviewed for us by Robert Rhodes, and the Gemmel Award winner The Wise Man's Fear — which doesn't make it much of a chronicle by fantasy standards, really. But it has already vaulted into the front rank of modern fantasy, with great critical acclaim and a growing body of fans. Expectations are high for the third volume.
Now comes word that Rothfuss's next book, featuring a character from the previous novels, is not the long-awaited third volume in The Kingkiller Chronicle. Instead it's a novella featuring Auri, former student at The University, titled The Slow Regard of Silent Things.
This is the second of three novellas set in Temerant (known as the Four Corners of Civilization in the novels) that Rothfuss reportedly has planned. The first, "The Lightning Tree," was centered on Bast and was recently published in Rogues, the massive heroic fantasy anthology edited by George R.R. Martin and Gardner Dozois. The third, a very lengthy (100,000-120,000 words) volume featuring Laniel Young-Again, has not yet been officially announced.
The upcoming third volume in The Kingkiller Chronicle, The Doors of Stone, has a title but no firm release date.
The Slow Regard of Silent Things will be released as a standalone hardcover by DAW this October. Here's the book description.
---