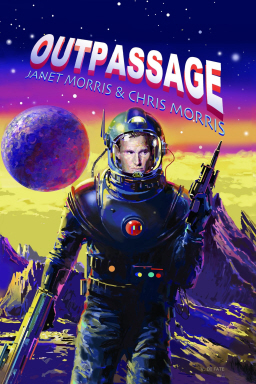 Outpassage
By Janet Morris & Chris Morris
Perseid Press (430 pages, February 10, 2014, $24.95 trade paperback/$6.99 digital)
Cover by Vincent Di Fate
You only live once.
That is not only the theme of this excellent science fiction novel — it is also at the very heart of the novel's story premise. Once again, I continue with my reviews of my favorite novels by Janet Morris and Chris Morris. But how I ever missed Outpassage when it was first published in 1988 I cannot say, because this is exactly the type of science fiction story I grew up reading in the pages of Amazing Stories and The Magazine of Fantasy and Science Fiction. So this is the first time I've had the pleasure to read this great science fiction adventure.
Outpassage is action-packed, character-driven, and thought-provoking. The science is grounded in reality, but isn't integral to the plot, and the tech never gets in the way of story and character: there is no garbage science or techno babble to muddle the plot. While this story has the feel of an old-fashioned, traditional science fiction novel from back in the day, it has a hip and modern sensibility to it. The characters are vivid and memorable, and the lean prose style is perfectly suited to the story. The dialogue is perfectly matched to each character — crisp and sharp, and very smart, with a fine balance of humor and gravitas.
---