Traveling Gunslingers, Exorcists, and Zeppelins: A Review of Dead Man's Hand
Traveling Gunslingers, Exorcists, and Zeppelins: A Review of Dead Man's Hand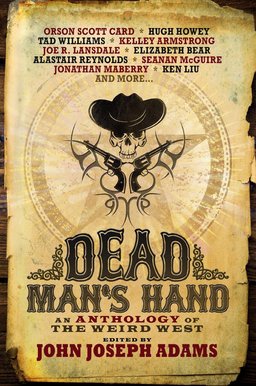 As a kid, I remember my grandfather's shelves lined with multiple copies of Zane Grey and Louis L'Amour westerns with titles like Wild Horse Mesa, Crossfire Trail, and Fair Blows the Wind.
I never actually read any (even today). Which is no knock against my grandfather's tastes… my grandmother's shelves were equally burdened with mysteries, primarily Agatha Christie, which I also never read (to date, I've only read one Agatha Christie novel).
But I actually adore a lot of movie westerns, especially classics with actors like John Wayne or Clint Eastwood. Though I admit that I mostly like the spaghetti (i.e. Italian or Italian influenced) side of the genre.
I also love SF&F, and it  has seen its share of experimental westerns crossovers. For example, we had the not-so-great 2011 Cowboys and Aliens, the perhaps even worse 1999 Wild Wild West, the fairly flat 1973 sci-fi Westworld, and the OK 1969 The Valley of Gwangi.
Fortunately there are have been some excellent exceptions as well, especially in the horror sub-genre, such as 1987's Near Dark, the 1990 camp classic Tremors (though with less-successful sequels), 2008's The Burrowers, and the outstanding 2011 zombie flick Exit Humanity.
But can the western genre mix well with SF&F in written word?
You bet it can! Though I'm sure there are forerunners to it, my first foray into such western cross-pollination is the latest anthology from John Joseph Adams called Dead Man's Hand: An Anthology of the Weird West.
Besides being the editor of Lightspeed, Fantasy, and Nightmare magazines and co-hosting his own geeky podcast, Adams is also the editor of several acclaimed SF&F anthologies. The ones that I have read and enjoyed are his 2012 Epic: Legends of Fantasy and his very successful 2008 The Living Dead, but I've heard great things about his others as well.
Being that Dead Man's Hand is subtitled an anthology of the "weird" west, I was expecting to read stories that were mainly horror, since that label is often associated with it, or at least a certain kind of horror, and the cover art is highly suggestive in this direction as well. Like most literary labels though, "weird" is fairly loosey-goosey. So I wasn't incredibly surprised, nor displeased, by the number of non-horror stories within.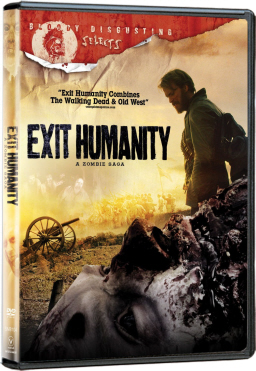 Dead Man's Hand contains a plethora of different western-themed stories including horror, sci-fi, dark fantasy, steampunk, and even romance and comedy. And there are a host of SF&F's best and brightest, including Kelley Armstrong, Alastair Reynolds, Seanan McGuire, and Ken Liu, along with several authors whom I was not familiar with.
Some of my favorite stories included (not surprisingly for me) the horrific ones. For instance, "The Red-Headed Dead" by Joe R. Lansdale is a story about Reverend Jedidiah Mercer, a sort of traveling gunslinger/exorcist, and evidently a recurring character in several of Lansdale's stories. I'm a pure sucker for the combination of gunblazing and horror elements — one of the reasons I guess I love the 1987 movie Predator.
Jeffrey Ford also has a very creepy, Lovecraftian-like horror story called "La Madre Del Orro." I also enjoyed the horror-themed story by Laura Anne Gilman called "The Devil's Jack." It had a very nihilistic or existential feel to it — very good story.
If there was one dominant genre throughout this anthology, though it was definitely steampunk. Several of these stories had the familiar tropes of steam-powered gadgetry, zeppelins, goggles, parasols, etc.
Stories like this included David Farland's "Hellfire on the High Frontier," Seanan McGuire's "Stingers and Strangers," and Elizabeth Bear's "Madam Damnable's Sewing Circle." I had never read steampunk before and found this 19th century style sci-fi to be very interesting.
One steampunk story I loved, and was also very funny, was Walter John Williams's "The Golden Age." This is a sort of superhero comic book story set in the gold rush days of mid-1800s California. It was incredibly inventive, told from the perspective one of the super-villains, called The Commodore.
The details were often ludicrous, but I couldn't help being drawn along laughing at the silliness of it all. Williams's story was absolutely delightful!
Another very funny tale that deserves mention is Charles Yu's "Bookkeeper, Narrator, Gunslinger" about a bookkeeper who suddenly and inexplicably becomes the fastest gunslinger in the west. This story is a hoot!
If there's one overarching thing I loved about this anthology, it was the western-feel and western-like descriptions. Here are a very few of my favorites:
— He sat warily and played carefully and never bet more than he could afford to lose. That was how you got to be old, in the Devil's West.

— He had a streak of mean in him that would make a pit viper timid.

— They traded stories, some of them nigh on true.
I also greatly enjoyed bits of dialogue like the following:
—"I reckon you got what's coming to you."

—"What in tarnation are you talking about?"
Cool stuff!
Dead Man's Hand: An Anthology of the Weird West is an excellent volume filled with a diverse range of western-themed stories from the whole spectrum of SF&F, leaning a bit towards the steampunk end of things. I greatly enjoyed it and highly recommend it!
It's published by Titan Books, over 400 pages, and currently priced at online retailers for around $14 for the paperback and around $9 for the digital edition.