Were These the 10 Best Ghost Stories as of 1927?
Were These the 10 Best Ghost Stories as of 1927?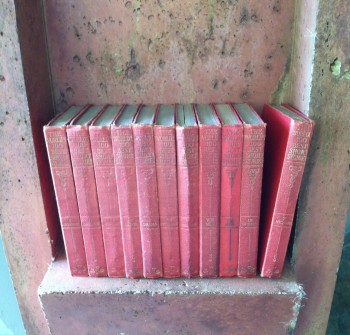 In 1927, Funk & Wagnalls Company published a 10-volume set titled The World's One Hundred Best Short Stories. Edited by Grant Overton, each small (about 4" by 6.5"), red, hardbound book had a distinct sub-heading: V1. Adventure, V2. Romance, V3. Mystery, V4. Love, V5. Drama, V6. Courage, V7. Women, V8. Men, V9. Ghosts, V10. Humor.
Before I get to the meat-and-potatoes of this post (and if you think that would be volume 9, you would be eerily correct), a couple random observations about the series overall…
First: what an idiosyncratic parsing of genres! Four or five of them would be recognizable genres today, but I've yet to see a "courage" section in any bookstore.
Second: I wonder what distinguishes stories of "love" from stories of "romance"? My first thought was that maybe "romance" was being used in an earlier sense — as describing literature like the tales of King Arthur and stories that we would today classify as "fantasy." Nope. A brief perusal was enough to see they're romance stories in the modern sense.
Third: "Drama" here is meant to denote what we'd probably just deem mainstream or literary fiction. That volume includes stories by Kathleen Norris, Stephen Crane, and Guy de Maupassant ("The Necklace", one of my first introductions to "literary fiction" in school — a story that fostered the oft-reinforced impression that "literary" fiction has to be depressing). "Drama" as it is used today — and back then too, for that matter — denotes stage scripts, at least in literary studies. Come to think of it, "drama" as Overton applied it to short stories back in 1927 is how it is now used in classifying films.
Okay, enough of the general observations. What really piqued my curiosity, when I came across these little volumes in a box dropped off at the bookstore where I work, was that ninth volume. Ghosts.
Of course, in 1927 "horror" was not yet a term for a category of fiction. Terrifying tales of the supernatural were typically lumped together as ghost stories. However, many of the stories we now consider classics of the horror genre had been written by 1927, so I was curious to see which ten tales were considered tops in terror at that time.
I was rather surprised. I only recognized about half the authors and three of the stories. Here's the complete Table of Contents:
H.G. Wells: "The Red Room"

Washington Irving: "The Legend of Sleepy Hollow"

Sir Walter Scott: "The Two Drovers"

Johan Bojer: "Kari Aasen in Heaven"

Edward Everett Hale: "The Man Without a Country"

Stacy Aumonier: "A Source of Irritation"

Prosper Merimee: "Mateo Falcone"

James Hopper: "The Queer of Scare"

Alexander Sergeievitch Poushkin: "The Queen of Spades"

John Galsworthy: "Quality"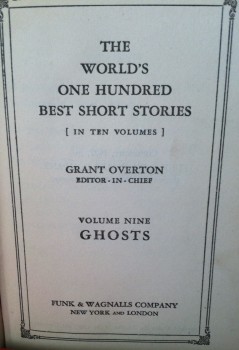 Obviously, any such collection is going to be somewhat arbitrarily selective on the margins, but there are certain names you just assume will be there. I wasn't surprised by the absence of Lovecraft, because few would have heard of him in 1927 outside of the pulp readership of Weird Tales. But no M.R. James?
It is interesting to see which tales stand the test of time, and which fall into obscurity. There are a few names here that one will still see in any anthology of classic horror today (Wells, Irving, Scott). Other names here are probably as unfamiliar to most of my readers as they are to me. Yet these were considered among the 100 best short stories in the world, back in that roaring time between The First World War and the Great Depression.
No Edgar Allan Poe — the father of American horror — on the list either, but if you are limiting the selection to stories with actual ghosts, Poe is slim pickins. One could argue (and I would argue) for "The Masque of the Red Death." He is represented elsewhere in the series ("The Gold Bug" in volume 3: Mystery).
And if this really were a serious anthology, you'd have to include W.W. Jacobs's "The Monkey's Paw" and Nathaniel Hawthorne's "Young Goodman Brown" — two of the most perfect horror stories ever written. But of course this is where any discussion of "best-of" lists winds up heading… So I'll leave it there, with you, dear Reader, to contemplate which ghostly tales would make your top ten.