Aaron Allston, December 8, 1960 – February 27, 2014
Aaron Allston, December 8, 1960 – February 27, 2014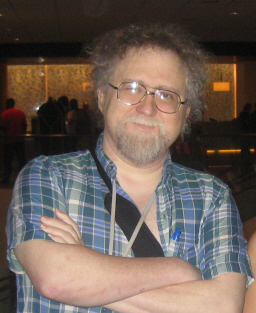 Aaron Allston, one of the most creative and prolific creators in the early adventure gaming hobby, died Thursday.
I first encountered his name in the early 80s, on the masthead of my favorite gaming magazine, Space Gamer, where he seemed to do just about everything — circulation manager, assistant editor, and eventually editor. When the magazine split in two in 1983, he also served as editor of the spin-off Fantasy Gamer.
By 1983, he was also an accomplished freelance game designer with a number of impressive credits, including Autoduel Champions, a mash-up of Hero Games' Champions and Steve Jackson Games' Car Wars. His many later credit included the Hollow World box set (TSR, 1990), Rules Cyclopedia for Dungeons & Dragons (TSR, 1991), The Complete Fighter's Handbook (TSR, 1993), and the Fifth Edition of the Champions rules (Hero Games, 2002).
By 1990, he was working in the computer gaming industry at Origin System, publishers of Ultima and Wing Commander, where he co-wrote the acclaimed Savage Empire, named the Best PC Fantasy RPG of 1990 by Game Player magazine.
He eventually found his greatest success in fiction, beginning with the Baen novel Galatea in 2-D in 1993, followed by the second Car Wars novel Double Jeopardy (1994), Doc Sidhe (1995), and two Bard's Tale novels co-authored with Holly Lisle. In 1998′ he published his first Stars Wars novel: Star Wars X-Wing: Wraith Squadron. He wrote four more in that series, and a total of 14 Star Wars novels, including three volumes each in the Fate of the Jedi, Legacy of the Force, and New Jedi Order series.
In April 2009, Allston suffered a heart attack and underwent an emergency quadruple bypass surgery. On Thursday of this week, while attending VisionCon in Springfield, Missouri, he collapsed and later died of apparent heart failure. He was 53 years old.