New Treasures: Pathfinder Tales: Stalking the Beast by Howard Andrew Jones
New Treasures: Pathfinder Tales: Stalking the Beast by Howard Andrew Jones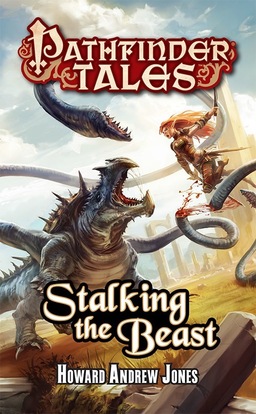 It's funny. I talked to Howard nearly every day while he was writing this book, and heard the blow-by-blow as he devised the plot and fleshed out the characters, recognized the growing excitement in his voice as the novel came together and he contributed his own unique talents and fine narrative gifts to the collaborative bit of gaming genius that is Pathfinder. It almost felt like reading the book would be superfluous.
And then I read the description below and realized hearing all the behind-the-scenes details meant absolutely nothing. It's like saying you know how a gourmet dish will turn out because you've seen all the ingredients. I may have watched Howard lay all the pieces out on his writing table, but the true magic comes in how they all fit together. I'm excited to find out and I know I'll be delighted.
When a mysterious monster carves a path of destruction across the southern River Kingdoms, desperate townsfolk look to the famed elven ranger Elyana and her half-orc companion Drelm for salvation. For Drelm, however, the mission is about more than simple justice — it's about protecting the frontier town he's adopted as his home, and the woman he plans to marry.

Together with the gunslinging bounty hunter Lisette and several equally deadly allies, the heroes must set off into the wilderness, hunting a terrifying beast that will test their abilities — and their friendships — to the breaking point and beyond. But could it be that there's more to the murders than a simple rampaging beast?

From critically acclaimed author Howard Andrew Jones comes a new adventure of love, betrayal, and unnatural creatures, set in the award-winning world of the Pathfinder Roleplaying Game.
Interested? Paizo has promised us enough free copies for a giveaway. Stay tuned for details and you could win your own copy.
Pathfinder Tales: Stalking the Beast was published this week by Paizo. It is 400 pages, priced at $8.99 in paperback. No word on the digital edition yet. Howard's previous Pathfinder book was Plague of Shadows, released in 2011. His most recent novel was The Bones of the Old Ones.