New Treasures: Dying is My Business by Nicholas Kaufmann
New Treasures: Dying is My Business by Nicholas Kaufmann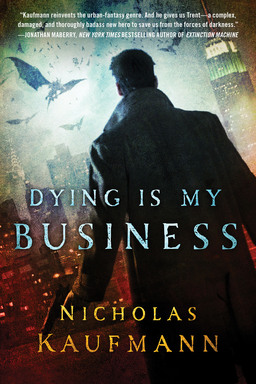 I love these Chris McGrath covers. He does terrific character portraits and unique things with light. His characters perpetually seem spotlighted by a fog-drenched glow and no artist today makes his heroes more stylish. Just check out his gorgeous covers for Ken Scholes's Canticle or Max Gladstone's Three Parts Dead (or see a more complete gallery at his website.)
Art directors choose artists primarily for two reasons: to create an eye-catching cover and to subconsciously remind buyers of other successful series they've enjoyed. McGrath is the cover artist for Jim Butcher's bestselling Dresden Files, as well as Seanan McGuire's October Daye novels, Kelly Gay's Charlie Madigan books, Warren Hammond's KOP novels, D. B. Jackson's Thieftaker Chronicles, and many other well-loved series.
I think McGrath was an excellent choice for Nicholas Kaufmann's dark urban fantasy, Dying Is My Business, the tale of a badass hero facing down the forces of darkness in modern-day Brooklyn.
Given his line of work in the employ of a psychotic Brooklyn crime boss, Trent finds himself on the wrong end of too many bullets. Yet each time he's killed, he wakes a few minutes later completely healed of his wounds but with no memory of his past identity. What's worse, each time he cheats death someone else dies in his place.

Sent to steal an antique box from some squatters in an abandoned warehouse near the West Side Highway, Trent soon finds himself stumbling into an age-old struggle between the forces of good and evil, revealing a secret world where dangerous magic turns people into inhuman monstrosities, where impossible creatures hide in plain sight, and where the line between the living and the dead is never quite clear. And when the mysterious box is opened, he discovers he has only twenty-four hours to save New York City from certain destruction.
Nicholas Kaufmann is the Bram Stoker Award-nominated author of General Slocum's Gold and Chasing the Dragon. This is his second novel.
Dying is my Business was published by St. Martin's Griffin on October 8. It is 369 pages, priced at $15.99 in trade paperback and $9.99 for the digital edition.