Dirty Words in Fantastic Fiction: A Writer Blogs About Process
Dirty Words in Fantastic Fiction: A Writer Blogs About Process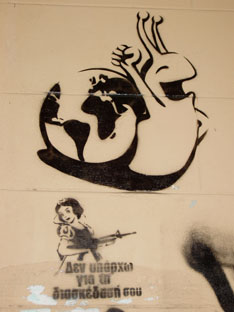 All writers, whatever their stripe, accomplish the bulk of their labor through the incisive, judicious choice of words.  Authors prone to world-building fantasy find themselves shackled in ways that most writers are not, limited to a surprising degree in their available terminology.  Consider, if you will, the following wonderful words: renaissance, Stilton cheese, bonobo, perestroika, taco, Hollywood, dim sum, tribologist, Ecuadoran, and haiku.
The common element?  You guessed it.  Not one of the words in that list is likely to have a place in the literature we lovingly call fantasy fiction.
For those new to my blogging, a quick point of order: I have a trilogy of stories set to appear in Black Gate's pages in the near future.  A novel has grown from the stories, and these blogs are intended to track the progress of that work.
At present, I have typed "The End" onto The Portal, the novel in question, and I am now engaged in the arduous but exciting task of going through the entire manuscript in hard copy, red pen in hand.  (As my one-time mentor Chris Kazan said, "If you think it might be wrong, it is."  Dictums like that make for gallons of red ink.)  Of particular importance to this blog entry, The Portal is set in a world of my own devising, and it's that limitation––or opportunity, depending––that tracks me back to the list of "bad" words above.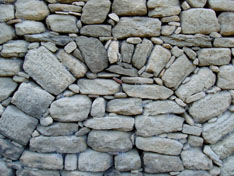 Puzzler the First: Early on in The Portal, I introduced a country known only as the State, and in describing its populace, I wanted to use the term "citizens."  But could I reasonably and legitimately do so?  The Romans coined the term "citizen" (cīvis); was its meaning therefore so specific that I needed to avoid it?  An ounce of web surfing revealed that English has been using the word for centuries, beginning with Middle English, and that "citizen" has become somewhat more generic down the years.  In light of this, I elected to allow myself the luxury of its use.
"Romans," however, clearly has no place in any adventure fiction set in a made-up world, be it Middle Earth, Ringworld, or the Purple Isles.  Nor would I be able to use "Romanesque," since the people in my pages would have no referent for such a term.  To whit, the only language acceptable in a novel that participates in world-building is that which can be derived, organically and without undue semiotic nail-biting, from the endemic cultures of that newly constructed world.
The ramifications of that simple rule are legion––and I'm not referring to the legions Roman.
Just think of all the things I can't mention in The Portal: the World Bank, HDTV, President William McKinley, gulags, Thai elephant art, Obamacare, Colt 45 Malt Liquor.  Not one of my characters can suddenly erupt into Roy Orbison's "Crying" (although several clearly want to).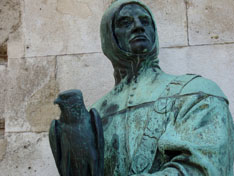 What other strictures do original worlds imply?  If I allow for a forest––and I do––must I name each tree afresh?  If so, how much time must I take in explaining and describing each of these new tree species in terms that an ideal reader will understand?  At what point will the patience of my reader run dry?
My solution has been straightforward: The Portal allows for maples, willows and walnuts, etc., but I then add a few of my own, as needed, including the rootstock tree, typically hollow, together with groves of giants that would make a sequoia feel small, the Trees of the Wind.
Meanwhile, what do my world's made-up farmers harvest, not once but four times a year?  Harrow beans, of course––which so far as I know, do not exist, in English or any other language.  But can my farm-folk harvest corn?  It's a definitive New World crop, a veritable indicator species.  Most fantastic fiction lodges itself firmly in Old World trappings, no matter what place names get used, so just where am I locating my tale-telling if I bring in maize?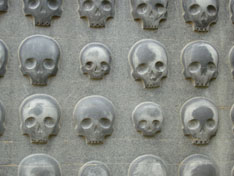 Patrick Rothfuss, in The Name of the Wind, mixes the familiar and mythical to good, easy-on-the-eye effect.  He makes ready use of exotic made-up trees (roah and denner), but keeps the majority of his forests stocked with oak, while his roadsides are bordered by everyday sumac (of some sort, at least; the genus Rhus goes on and on and on…).  As for corn, Rothfuss includes it without missing a beat, and I suspect not one of his loyal readers finds fault with the choice.  Perhaps they have no reason to; after all, the quality of the tale-telling, not the cropland, is the main event.
And yet…
One thing for certain: To introduce a new species of flora just for the pleasure of its nomenclature is a dalliance no adventure novel can stand much of.  Every time I add a new creation, I must weigh that keen, sparkling detail against its effect on the work as a whole.  Is it more of a distraction than an addition?  Does it serve the novel's theme as well as its story and plot?  If it is nothing but décor, does it deserve to be excised immediately?  On that last score, I know what Chris Kazan would say.
Another troublesome term: Humans.  Human beings.  What do I get to call a collection of people in a made-up world?  The Latin Homo sapiens is obviously right out, but even "human" is fraught with peril.  It comes with an extraordinary number of associations, among them human rights, human frailties, and the ongoing debates between creationists and Darwin.  The default, then, becomes "people."  Or perhaps, depending on the situation, "rabble," "the mob," "the unwashed masses" or "those guys over there."  Or even, dare I say it, "citizens."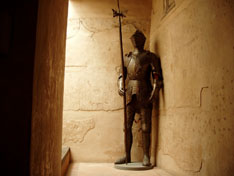 English is a notoriously inclusive language.  It absorbs words and concepts from other cultures like a whale sucking down krill.  For my purposes, this adhesive quality can be a double-edged sword.  English provides me with fabulous variety––an embarrassment of riches––but a fair number of those words remain strongly associated with their native language base, and I would like to suggest that these, within the realm of the fantastic, are off limits.
Examples include "cul-de-sac," which I have had to discard more than once in writing The Portal, and "petite," a term that smacks of French, Amelie, and clothing.  On the culinary side, even though my characters eventually find their way to a swampy southern city, they can't go out for shrimp etouffee and gumbo.  Such dishes would literally be invasions from another (verboten) world.  Shrimp by itself might, however, be allowable.
So, out with French.  Out with Russian (nyet, nyet, Nannette).  Out with Italian, too. Otherworldly heroes and heroines don't take their leave by saying "Ciao."
Of course, virtually anything with an Anglo-Saxon flavor is acceptable, but to hew too closely to those thick, urgent phonemes is to limit oneself to sex-talk and cursing––and while those, too, have their place, a certain moderation would be in order.  (When characters do curse, they might well be better off with invented idioms like "By my beard!"––although if I ever read that trite and tired example again, I shall probably throw the Anglo-Saxing book across the Anglo-Saxing room.)
A quick word on tone and diction level.  Because a good many adventure fictions come loaded up with a certain amount of sturm and drang, they would not survive long if they were to suddenly employ words like "cute" and "yummy."  Or imagine this alternate-universe Michael Moorcock: "Elric woke at first light, feeling delightfully peppy."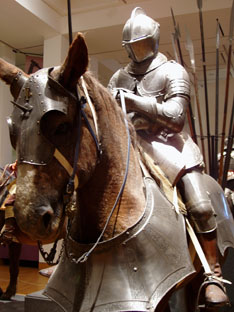 Ultimately, all these decisions have the ring of the subjective, and final arbitration lies in a kind of perpetually adjudicated joint custody, with the author and the reader as the two plaintiffs.  As Howard Andrew Jones wisely said, every work of fantasy literature is an act of translation, otherwise it couldn't be written in the first place.  Nobody in the mystical realms of Nehwon or Three Firs speaks English, after all.  But, we have to write the story somehow, and English, in an English-speaking world, is readily at hand.  What follows then is a basic matter of word choice (what Twain called the difference between the lightning and the lightning bug).  Fantasy writers of the world-building kind must rely on both good common sense and on the critical euphony of a finely tuned ear.  They must deploy words that are as accurate and vital as "humanly" possible, words that never once distract or lurch the reader out and away from the hermetic creation the author intends.
Simple, right?
Right.
Now.  Your turn, gentle reader.  What words and phrases have you encountered in your reading that threw you clear out of the book?  Or, for those of you who also write, what terms did you (sadly, reluctantly, even tearfully) jettison from your arsenal?