Black Gate subscriptions to increase to $39.95 on August 15th
Black Gate subscriptions to increase to $39.95 on August 15th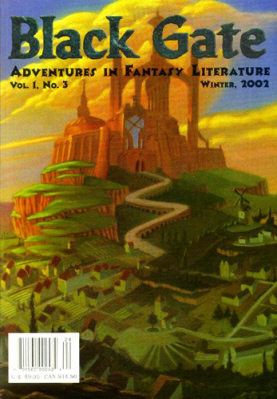 As previously announced, Black Gate subscriptions will increase from $29.95 to $39.95 for four issues, starting August 15.
Why the increase? Frankly, it's time to renovate the Black Gate rooftop headquarters, and all that crime-fighting equipment doesn't come cheap.
Plus, what's with postage costs?  When we started the magazine ten years ago, it cost roughly $1.70 to send the magazine to US destinations, Media Mail.  Now that's risen to $2.77, or almost $12  for four issues, including packaging. When the new crime-fighting supercomputer arrives, first thing on the agenda is ferreting out the crimelords in the US Post Office.
All that means we see about $18 from every $29.95 subscription.  With our new larger size and cover price (BG 14 was $15.95), even the old steam-driven computer was able to point out that selling four issues for $18 just wasn't going to cover all that French mineral water Howard keeps ordering.
The good news is that the magazine has grown substantially in size. We don't promise that each issue will be as large as BG 14 (384 pages), but future issues will boast an increased page count and be priced at $12.95.
Best of all, until August 15 we'll honor the old subscription price of $29.95 for four issues.  So if you've been considering a subscription, now's the time to take action.
Back issues will also increase to $12.95/copy, but until August 15 any four back issues are available for just $29.95 as part of our Back Issue Sale .
As always, we deeply value your support. And if you've got a used portable forensics labs, we're in the market.