Purity of Blood by Arturo Pérez-Reverte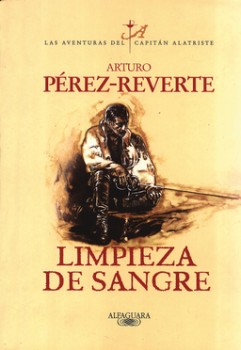 I closed out my review of Captain Alatriste last summer by stating I would be reading more of Arturo Pérez-Reverte's series in "short order." That did not happen. Only now, over a year later, have I plunged back into the grimy, deadly underside of Golden Age Madrid. Even more than its predecessor, Purity of Blood (1997) explores the darkest heart of imperial Spain as she, only 130 years after her emergence as the world's leading power, is collapsing in on herself; collapsing due to endless war, unsustainable debt, corruption at all levels, and unyielding religious fanaticism. Still, Spain remains a mighty empire; if not feared, still respected in all corners, and her subjects proud:
But at the time of this tale, our monarch was still a young man, and Spain, although already corrupt, and with mortal ulcers eating her heart, maintained her appearance, all her dazzle and politesse. We were still a force to be reckoned with, and would continue to be for some time, until we bled the last soldier and last maravedi dry. Holland despised us; England feared us; the Turk was ever hovering 'round; the France of Richelieu was gritting its teeth; the Holy Father received our grave, black-clad ambassadors with caution; and all Europe trembled at the sight of our tercios — still the best infantry in the world — as if the rat-a-tat-tat of the drums came from the Devil's own drumsticks. And I, who lived through those years, and those that came later, I swear to Your Mercies that in that century we were still what no country had ever been before.
Purity of Blood picks up shortly after Captain Alatriste, in the year 1623. Like that book, this one is narrated by Íñigo Balboa, the son of one of Alatriste's slain comrades. Íñigo tells the story from late in life, but during its events he is thirteen.