Modular: Explore Starfinder's Pact Worlds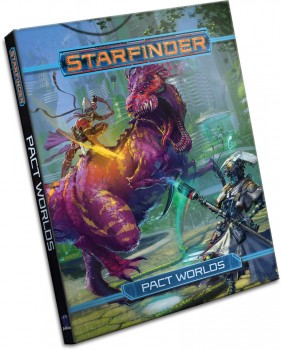 The Starfinder RPG allows for literally a universe full of original settings, giving Gamemasters the opportunity to create their own worlds and societies as the basis for their games. For those who like working with a framework of existing source material, though, the Starfinder development team has done a great job of presenting exactly the sort of rich, diverse system of planets, races, and societies that one could hope to find: the Pact Worlds.
Starfinder is set in the distant future of their Pathfinder RPG fantasy setting, after the dominance of magic and superstition has given way to science and technology (and, of course, technomagic). The planet of Golarion, the center of the Pathfinder fantasy setting, has vanished. In its place rests the massive Absalom Station, surrounded by the remaining planets of its solar system. No one knows what happened to Golarion or who built Absalom Station, due to a break in history known as the Gap.
The planets of the system have joined together with Absalom Station to form the Pact Worlds, a loose defensive alliance formed against external threats. These fourteen locations (not all are planets, as they include the Sun and an asteroid belt) get a couple of half-pages apiece in the Starfinder Core Rulebook, but the newly-released Starfinder Pact Worlds sourcebook (Amazon, Paizo) fleshes them out and provides a variety of related starship and player options for Starfinder characters. Both players and Gamemasters will find much to love about this newest installment in unfolding universe of Starfinder.