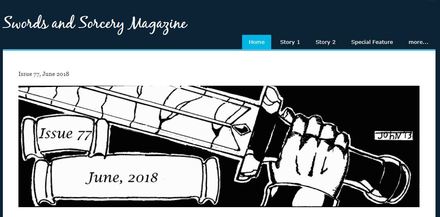 It's that time again, folks. I'm taking a break from my ongoing reread of Glen Cook's Black Company (6 books down, 4 to go!) to give you an update on the latest heroic fantasy short fiction. First, as usual, there're the monthly two stories from Curtis Ellett's Swords and Sorcery Magazine. The other source of stories this July is a collection from Howie Bentley. Most of the stories are reprints I've reviewed before, but there are some new things I'll tell you about.
Issue 77 of Swords and Sorcery Magazine kicks off with "Gina," the fiery (and bloody) story of a deadly young woman with the ability to control elementals. It's by Gustavo Bondoni, an author whose work I've reviewed in the past. The story kicks off just as Gina is about to be "sacrificed to the fire-demons of Hell's Gate." Unfortunately for her captors, just as she steps off the precipice into the volcano's mouth, they realize she is not the naked and defenseless slave they believe her to be.
Gina looked down again and smiled. She said a few words under her breath. Out loud she said: "Haggan," and took that final step forward.

She did not fall.

The guard's footsteps rang out behind her as the man realized that something had gone wrong and rushed towards her to correct it. Not only was he much too late, but he was also running in the wrong direction. Any intelligent person living in a city as infested with magicians as Hell's Gate would have taken one look at the floating woman and run the other way.

Sadly, dungeon-keepers were not selected for their intelligence. The man kept coming as Gina turned back the way she'd come. A contemptuous flick of her arm brought a tongue of fire from the depths. A gesture sent it towards the rushing defender, who could do nothing but look down at his chest in horror as a searing lance thicker than his arm penetrated his sternum and emerged from his back.
Bondoni packs a lot of back story into this short work, as well as some solid, if not altogether surprising, character development. It successfully walks the line between feeling like something ripped from a longer work and a standalone effort. It manages to feel like an important incident from the larger story of Gina's life, yet still work as a completely discrete story; something that makes me, as a reader, very happy.