GenCon 2017, Pt. 2: Science Fiction Edition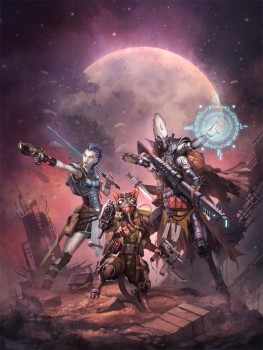 Science fiction themes were front and center at GenCon this year, in a way that surpasses what I have seen in previous years. Usually the science fiction games are almost entirely tied into existing property lines, like the various Star Wars miniature battle lines produced by Fantasy Flight Games. These were certainly present, but they were matched by new science fiction games that had an appeal independent of being tied to well-established and beloved properties.
I'll dig into several of these games more deeply in future full reviews, but for now here are some high-level looks at some of the new science fiction-themed games and expansions from GenCon.
Starfinder
The release of the Starfinder Roleplaying Game was one of the central events of the convention, the science fiction/space fantasy game set in the distant future of Paizo's Pathfinder universe. We've spoken about Starfinder previously (see here, here, and here). I've been enthusiastic about the prospect of this game since the day it was announced, so it's a pleasure to see that its release was an astounding success. As Erik Mona of Paizo explained to me, the company had looked at their past records and brought more copies of the Starfinder Core Rulebook than the number of any previous book they've ever released at GenCon … and it sold out in less than 7 hours. (The PDF, however, is available through Paizo.com for only $9.99!)