Birthday Reviews: Cordwainer Smith's "No, No, Not Rogov!"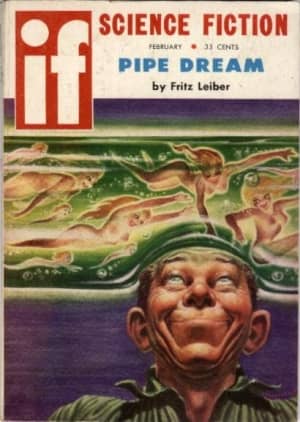 Cordwainer Smith was born Paul Linebarger on July 11, 1913 and died on August 6, 1966. As Linebarger, his most famous work was Psychological Warfare. Frederik Pohl revealed that Smith was really Linebarger in an editorial that ran in the December 1966 issue of Galaxy
Smith was nominated for two Hugo Awards, first for the short story "The Game of Rat and Dragon" in 1955 and later for the novel The Planet Buyer in 1965. His novella "On the Storm Planet" was also nominated for the first Nebula Award. He posthumously won the Seiun Award three times, for his short fiction "Think Blue, Count Two" and "A Planet Named Shayol." His third win was for the novel Norstilia, which was also a nominee for the Jupiter Award.
"No, No, Not Rogov!," was originally purchased by Damon Knight and published in the February, 1959 issue of If. Judith Merril included the story in The 5th Annual of the Year's Best S.-F. and Smith used it in his collection You Will Never Be the Same. Knight reprinted the story in the anthology Science Fiction Inventions and it was one of Smith's stories in his collection The Instrumentality of Mankind. When Isaac Asimov and Martin H. Greenberg were selecting stories of The Great SF Stories 21 (1959), "No, No, Not Rogov!" made their cut. Jim Mann opened the NESFA Press collection The Rediscovery of Man: The Complete Short Science Fiction of Cordwainer Smith with the story. David G. Hartwell and Kathryn Cramer used it in The Ascent of Wonder: The Evolution of Hard SF. It most recently appeared in the Baen Books collection of Smith's work, When the People Fell. "No, No, Not Rogov!" has been translated into French, German, Italian, and Spanish.
"No, No, Not Rogov!" is an indictment of the Soviet system. Smith tells about Soviet scientists N. Rogov and Anastasia Cherpas, whose professional competitiveness turns into respect and eventually a scientifically collaborative marriage. Whether or not they actually have any affection for each other can't be determined from the story, although Cherpas does resent the crush that the scientist Gausgofer, who was sent to spy on them, develops on Rogov.