The Public Life of Sherlock Holmes: Psych of the Dead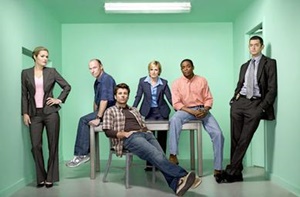 I could not figure out what to write about today. I re-watched Paul Newman's Harper, and thought about a post on that – especially since I recently re-read the autobiography of screenwriter William Goldman. And I saw Unholy Partners, a good hardboiled newspaper flick with Edward G. Robinson and Edward Arnold. I re-watched three versions of The Hound of the Baskervilles (Ian Richardson, Peter Cushing, and Jeremy Brett), and Bruce Campbell's My Name is Bruce. I read Mark Latham's Sherlock Holmes – Van Helsing novel, Betrayal in Blood. I started Robert E. Howard's Cormac Mac Art stories, which I'd not read yet. I even started typing about Fortnite, the phenomenon with over 350 MILLION registered accounts – I play as a way to connect with my soon-to-be teenage son. But none of those subjects 'clicked' for this week.
I was sitting, looking at the well over a thousand books in my home office drawing a blank. I had a case of writer's malaise. For Halloween, I watched a couple episodes of Psych, and I've decided to write about that. This isn't one of my in-depth series' looks, like I wrote for Leverage, and Hell on Wheels. But we'll still talk about one of my favorite detective shows.
The premise of Psych is that Shawn Spencer (played by James Roday) has Sherlock Holmes-like powers of observation. Growing up, his dad (a terrific co-starring performance by Corbin Bernsen) was a hard-nosed cop who taught his son by locking him in the trunk of the car, challenging him in a restaurant to close his eyes and tell him how many diners are wearing hats, and the like. In the pilot, circumstances force Sean to pretend those observational skills are actually psychic revelations. He has to continue the charade to avoid jail. It sounds ridiculous, but they make it work well enough in the pilot.