Blogging Marvel's Master of Kung-Fu, Part Three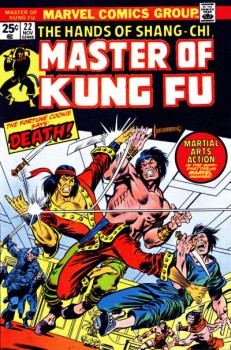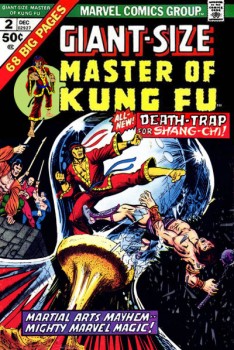 Master of Kung Fu #22 sees the welcome return of artist Paul Gulacy who came and went a bit in these early issues. The first half of the story sees Shang-Chi set upon by Si-Fan assassins at a Chinese restaurant in New York before infiltrating his father's skyscraper base of operations. Fu Manchu has captured both Sir Denis Nayland Smith and Black Jack Tarr. Shang-Chi stows away aboard Fu Manchu's private jet unaware of their destination. Once on the ground, he follows as his father's minions lead their captives to a cave in the side of a mountain which has been filled with dynamite. Shang-Chi rescues the two Englishmen and prevents the detonation which would have seen Fu Manchu kill his archenemy in the same instant he destroyed Mount Rushmore. Doug Moench, like Steve Englehart before him, has an embarrassment of riches that are largely squandered with insufficient page count to fully develop his narrative. This would soon change, however, and make the series one of the finest published in the 1970s.
Most of Marvel's Giant-Size quarterly titles were throwaways, much like too many of their special Annual editions, but Giant-Size Master of Kung Fu #2 was a 40-page epic designed to showcase both the character of Shang-Chi and the talents of the series' writer and artist, respectively. Doug Moench had been harboring a desire to address racism and bigotry directly and a series with an Asian protagonist gave him the perfect forum to do so. Paul Gulacy now had the freedom to display martial arts fighting as well as moving displays of romance and longing relying solely on the power of his images in a string of panels that conveyed storytelling free of words. Even more significant is the fact that Gulacy's depictions of lust and attraction never pandered to titillation as the artist evinced a mature understanding of the art form's possibility. The fact that he was strongly influenced by cinema and Steranko's pop art work of the 1960s take nothing away from the fact that Gulacy was coming into his own as an artist with this title.