Blogging Marvel's Master of Kung Fu, Part One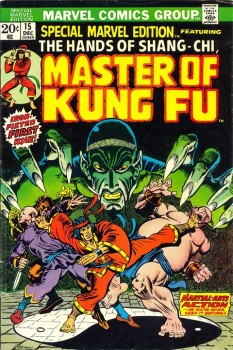 Special Mavel Edition is a little remembered comics reprint title of the early 1970s. Its fifteenth and penultimate issue dated December 1973 featured the debut of a new series, Master of Kung Fu. Marvel's timing was perfect as Bruce Lee was now a major star at the U.S. box office and David Carradine's Kung Fu series was a critical and ratings success on the small screen.
Marvel had optioned the rights to Sax Rohmer's Fu Manchu characters several years before when Pyramid paperback reprints of the 13 Rohmer novels were selling strong thanks to the popularity of the Christopher Lee film series. Marvel already had their own Fu Manchu clones in the form of the Yellow Claw and the Mandarin, but Master of Kung Fu gave them the opportunity to build a contemporary martial arts title out of a sequel to Rohmer's highly influential thriller series.
Conceived by Steve Englehart and Jim Starlin, the decision to incorporate Sax Rohmer's characters was at the insistence of Marvel editor Roy Thomas. Englehart enlisted the aid of Robert E. Briney, publisher and editor of The Rohmer Review fanzine to ensure the continuity was consistent with Rohmer's long-running literary series.