Edgar Rice Burroughs's Pellucidar Saga: Tarzan at the Earth's Core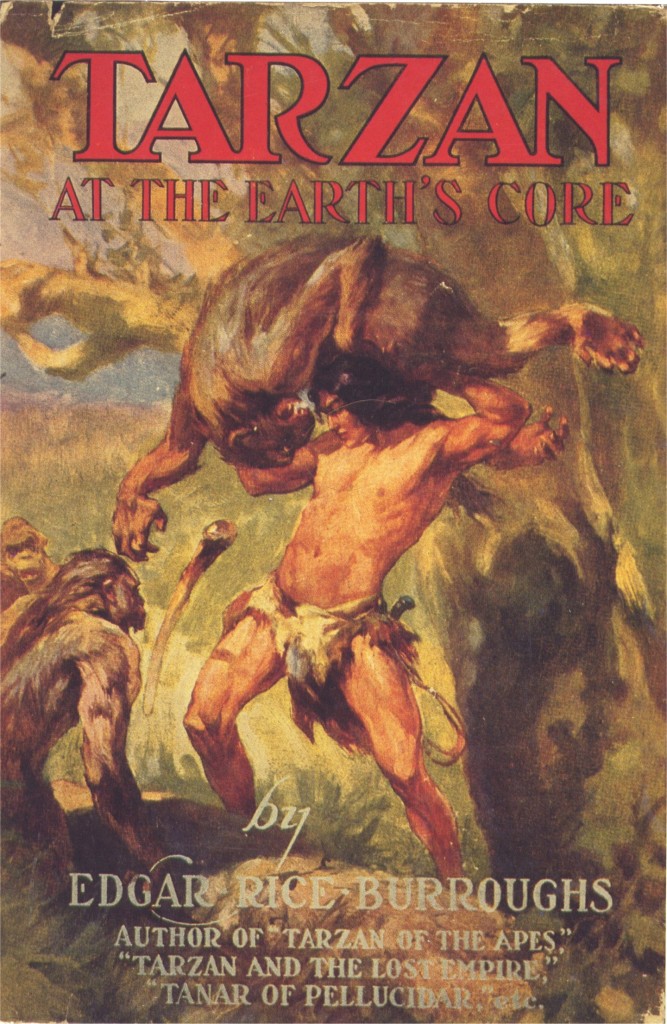 You'll believe a Stegosaurus can fly!
In the time I've written about Edgar Rice Burroughs for Black Gate, only once have I examined one of his Tarzan books. That was eight years ago. This lack of Tarzan representation isn't because I dislike the character. A number of the early Tarzan adventures rate among my favorite Burroughs novels, and I'll defend Tarzan of the Apes as one of the twentieth century's Great Books. But since there's more information available about Tarzan than any other Burroughs series, my literary adventuring was more interesting when it stayed in hinterlands of ERBiana.
However, it's a thrill to have the ape-man swing in through the side door during one of my series retrospectives. Let's welcome Tarzan onto the stage of Pellucidar. Ladies and gentlemen, boys and girls, Sagoths of all ages … it's crossover time!
Our Saga: Beneath our feet lies a realm beyond the most vivid daydreams of the fantastic … Pellucidar. A subterranean world formed along the concave curve inside the earth's crust, surrounding an eternally stationary sun that eliminates the concept of time. A land of savage humanoids, fierce beasts, and reptilian overlords, Pellucidar is the weird stage for adventurers from the topside layer — including a certain Lord Greystoke. The series consists of six novels, one which crosses over with the Tarzan series, plus a volume of linked novellas, published between 1914 and 1963.
Today's Installment: Tarzan at the Earth's Core (1929–30)
Previous Installments: At the Earth's Core (1914), Pellucidar (1915), Tanar of Pellucidar (1929)
The Backstory
Although most of Edgar Rice Burroughs's novels occur in the same universe, linked through the author's fictional surrogate version of himself, Tarzan at the Earth's Core is the only point where a character from one series leaps to another as the protagonist. It's the fourth Pellucidar novel and the thirteenth Tarzan novel — full crossover achieved for the first and last time in the ERB canon.