Dungeon Board Game from Wizards of the Coast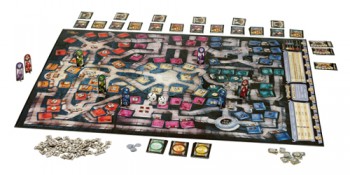 There were a lot of releases and announcements from Wizards of the Coast to get excited about in 2012, such as D&D Next, the Lords of Waterdeep board game, and the first four Dungeon Command faction packs (covered here and here). But one game slipped through the 2012 coverage here at the rooftop headquarters of Black Gate… in large part because it lacks the bells, whistles, and minis from some of these other games. But, at the same time, that's part of its charm.
Dungeon (Amazon, B&N) is a straight dungeon crawl game at a bargain basement price ($19.99!) compared to almost any other RPG-related board game that you'll find in the market these days. This is because there are no miniatures, just little cards and cardboard tokens.
This streamlined approach to the game design also makes Dungeon a pretty quick game to sail through. There isn't the sort of intrigue that drew our Black Gate overlord John O'Neill into Lords of Waterdeep, but the goal is something that most gamers can get behind: the one with the most treasure wins.