Between the Years When the Oceans Drank (Henry Kuttner's) Atlantis, and the Rise of COVID-19 — Elak Lives Again!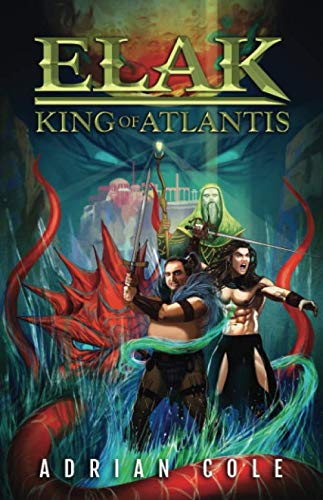 Adrian Cole is hardly a stranger to fantasy fiction.
Born in Plymouth, Devonshire in 1949, Adrian first read The Lord of the Rings in the late 1960s while working in a public library in Birmingham, and was inspired by the book to write an epic entitled "The Barbarians," which was eventually revised into The Dream Lords trilogy, published by Zebra Books in the early 1970s. He has been writing various ghost, horror, and fantasy tales, in both short-story and novel-length, ever since. His career is well-established and diverse, from psychological, alien-horror, to superheroes, fantasy trilogies to young-adult novels.
So it is particularly interesting that Adrian's newest work is an anthology of stories about the adventurer Elak of Atlantis: Elak, King of Atlantis, which was just released earlier this month by Pulp Hero Press.
Atlantis? A vogue setting in early to mid-20th century fantasy fiction, we don't really see novels or short stories in Atlantis anymore. Ah, but you see, Elak is himself a piece of history…
After Robert E. Howard's unfortunate suicide in 1936, a number of authors stepped up to fill the void. Most wrote reasonable, working tales, that were largely forgettable, and they themselves were forgotten. One, however, was the masterful Henry Kuttner, who danced easily between fantasy, horror and science fiction, and had a stellar career, made the more so by his collaborations with his wife, C. L. Moore. Kuttner wrote four Elak of Atlantis stories, which appeared in Weird Tales between 1938 and 1940.  They are an abridged version of REH's Conan stories, and follow the exploits of Elak as he passes from sword-for-hire to king. But Elak is not a "Clonan": he's a civilized man, a noble cast-off, who wields a rapier. Whereas Conan is destined to seize a crown, Elak is trying to avoid his destiny.  Unlike Conan, he is not a loner with "guest star" companions, and is accompanied by the perpetually drunk thief Lycon, and the druid Dalan, who is trying to get Elak to accept his destiny to rule the kingdom of Cyrena.
We first meet Elak returning from an encounter with the wife of Atlantean nobility and that strikes a note in the tales: there is a light-heartedness to them, although the world is a dark one.  If you can imagine an Errol Flynn swashbuckler with wizards and Deep Ones, you have the vibe.
Of course, that doesn't tell us why, 80 years after Kuttner abandoned the doomed island, Cole is bringing it back up from its watery depths.