Where Truemen Struggle to Preserve Genetic Purity: The Iron Dream by Norman Spinrad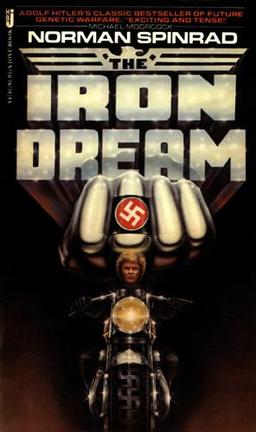 Every now and then, fandom needs to take a good, hard look at itself. Considering the recent Hugo kerfuffle, I thought it a fine time to read Norman Spinrad's famous skewering of fan culture, The Iron Dream.
First published in 1972, this is a masterpiece of metafiction. It is a book within a book, containing the 1955 Hugo Award winner Lord of the Swastika, written by none other than that famous science fiction writer, Adolph Hitler. We are informed that after dabbling in radical politics in Germany, Hitler moved to New York in 1919. In the 1930s he became a sought-after illustrator for pulp magazines and started writing fiction. He was popular in fannish circles for his fanzine work and for his witty banter at conventions.
His best-known work is Lord of the Swastika, a post-apocalyptic tale where the world has been ravaged by nuclear war and most people have become foul mutants. Luckily there is one nation, Heldon, where the Truemen struggle to preserve humanity's genetic purity.
Enter Feric Jaggar, a Trueman whose family was exiled due to political machinations and forced to live among the mongrel horde. Lord of the Swastika is the tale of Jagger's triumphant return to Heldon, where he unmasks a plot by the mutants to take over the country and sully the genetic purity of the last real humans. Jagger's political star rises, the masses rallying around him as he first faces off against a corrupt government, then unites the nation around him in order to start a massive war to wipe the Earth clean of genetic inferiors once and for all.