Blogging Epic Comics' Tomb of Dracula Limited Series, Part Two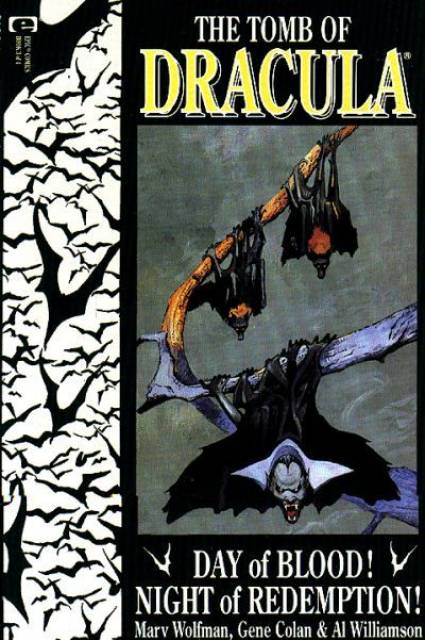 Marvel Comics' mature readers imprint, Epic Comics, published a Tomb of Dracula limited series in 1991 entitled, "Day of Blood, Night of Redemption." Marv Wolfman and Gene Colan reunited from the original series and teamed with Al Williamson to produce this visually stunning and highly ambitious four-part epic. The script faltered a bit by the end, as it really needed at least two more issues to realize its full potential; but this was an excellent effort and a welcome return to form that is deserving of more attention for its high standard of quality throughout.
The third issue gets underway with a quiet interlude shattered when a street gang makes the mistake of harassing the vampire after discovering him alone on the streets of Washington D.C. There is an unmistakable cathartic glee to the scene where Dracula literally drags the leader of the gang to his death. This is followed by a brief segment that establishes Katinka as having joined Frank Drake and Blade in their hunt for the vampire. Her character proves the necessary bridge to smooth the rough partnership rekindled between these two very different men. She also functions as a Van Helsing substitute, who is seeking a scientific cure for Marlene's possession.
Marv Wolfman obviously felt the imposing weight of technological change in the ten years since he had last written the character and brings the same weight to bear on the vampire. Dracula pays a visit to Lila in her dorm at Georgetown University, where he succeeds in seducing her. Once under the vampire's spell, the young woman eagerly steals all of Professor Smirnoff's notes and introduces the vampire to the burgeoning computer age and the marvel of the CD-Rom in this pre-Internet story. While Dracula absorbs all of this information, he is dismissive of Lila. The sexually confused young woman believes she loves the vampire and willingly enters into an abusive relationship with him.