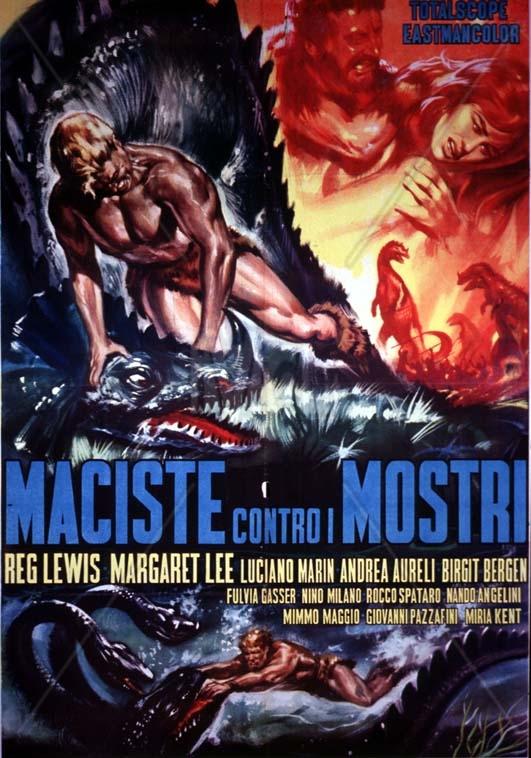 Here's a pleasing discovery: Amazon Video has a widescreen print of the 1962 sword-and-sandal (peplum) film Colossus of the Stone Age available under its U.S. television syndication title, Fire Monsters Against the Son of Hercules. And the print is a good one. It's not the level of a professional 4K restoration like the Phantasm Blu-ray that came out in December, but considering sword-and-sandal movies often look like someone dragged the film along the sidewalk on the way to the telecine department, Colossus of the Stone Age is damned near pristine. It isn't part of the Amazon Prime library, however, so subscribers have to shell out $1.99 to rent it, or an extra 51¢ to own it. There's a version streaming on Amazon Prime under the same title, but it's the standard cropped and dragged-across-the-pavement type.
So as far as pepla available in English, Colossus of the Stone Age looks fantastic. But is it any good?
Perhaps the better question is, "Is it worth watching?" For this type of low-budget fantasy production, the question of quality is often separate from the question of whether to spend time with it.
But my answer to both questions is "no."
The appeal of a peplum movie set in the Stone Age and the promise that it will have fire monsters is tempting, and the quality widescreen presentation is a legitimate bonus, but Colossus of the Stone Age (the U.K. theatrical release title) is one of the more tatty and flavorless examples of this genre. Pepla at their best have bizarre imagination, creative production designs and visuals, and robust action scenes. At their most mediocre they have heroes who don't do anything and long scenes of extras running around in fields or through cheap cavern sets while clumsily swinging sticks at each other. Which is a sentence that works as a summary of this movie.
---