Fantasia Extra: Lost Girls: The Phantasmagorical Cinema of Jean Rollin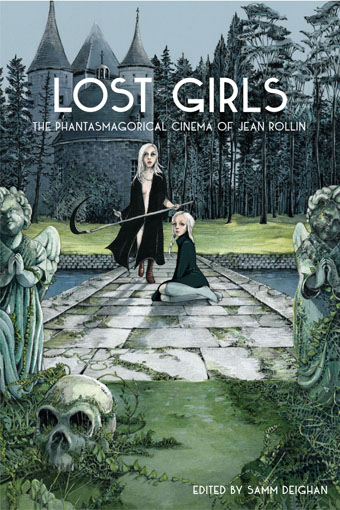 For my last Fantasia post of 2020, I'm again going back to cover something I was too fatigued to get to in a previous year. In 2017 publisher Spectacular Optical put out Lost Girls: The Phantasmagorical Cinema of Jean Rollin, a collection of essays by women scholars. The book launched at Fantasia and I asked for a pdf, then was too wiped out after the festival and for some time beyond to write a review. Although the book's currently sold out, I'm reflecting on it now for three reasons. The first is simply because I dislike yielding to fatigue permanently. The second is that I think it's worth writing a bit about Rollin, who I had not heard of in 2017, who does not seem to have been previously mentioned on this web site, and whose films of the fantastic are (to judge by this book) worth covering here. The third is to consider more generally the experience of reading about film, especially films one has not seen.
Let me start with Lost Girls. Edited by Samm Deighan, it's 437 pages long, with a foreward, 16 essays, and an afterword. The tone's academic but still accessible to a general audience — there are references and lists of works cited, and a general interest in placing Rollin within a broader cultural and intellectual context, but the essays tend to avoid the intricately theoretical and recondite. The book's lavishly illustrated, with stills from Rollin's films sometimes sharing a page with text they're illustrating, and at other times assembled into two-page spreads.
Given the nature of Rollin's work, there's a lot of blood and nudity in the pictures. From this book and what I've read elsewhere I gather that while Rollin made low-budget films across a number of genres he's best known for a cycle of movies in the 70s that combined horror, erotica, and arthouse surrealism. Ostensible exploitation films had their genre conventions undermined by ambiguity and mythopoeic imagery. Women were leads, heroes and villains and both in one; thus the idea of a book about Rollin by women, examining a male filmmaker whose work was ostensibly gazing upon often-nude young women but who also gave those characters unusual agency and range.
The essays in Lost Girls are generally respectful of Rollin. The book moves in a roughly chronological arc across his career, perhaps focussing especially on his early vampire films: Le viol du vampire (The Rape of the Vampire, 1968), La vampire nue (The Nude Vampire, 1970), Le frisson des vampires (The Shiver of the Vampires, 1971), and Requiem pour un vampire (Requiem For A Vampire, 1971). Recurring imagery in Rollin's films is considered, as are his influences from the serial form, and fable-like or fairy-tale characteristics of his stories.