Random Reviews: "Paramount Ulj" by Avram Davidson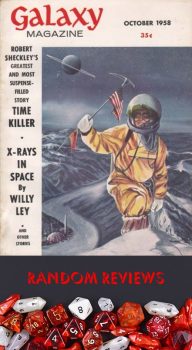 Because I've been asked about the process by which I've been selecting stories for the Random Review series, I thought I'd take a moment to explain how the stories are selected.
I have a database of approximately 42,000 short stories that I own sorted by story title. When it comes time for me to select a story to review as part of this series, I role several dice (mostly ten sided) to determine which story should be read. I cross reference the numbers that come up on the die with the database to see what story I'll be reviewing.  This week, I rolled 26,559 which turned out to be Avram Davidson's short story "Paramount Ulj."
One of the things I'm hoping to get out of this series, from a person point of view, is to discover authors and short stories that I've owned and have never read. Of course, I'm also hoping to share those discoveries, good or bad, with the readers of Black Gate.
Avram Davidson could be extremely erudite, yet, at the same time, rather silly.  "Paramount Ulj" is a story that tends to fall on the latter side of that spectrum and is completely predictable if you share Davidson's penchant for wordplay. It is one of his more slight stories, which may explain why its only appearances were its original publication in Galaxy (with translations appearing in the Swedish, French, and Italian versions of the magazine) and in Strange Seas and Shores, one of Davidson's collections.