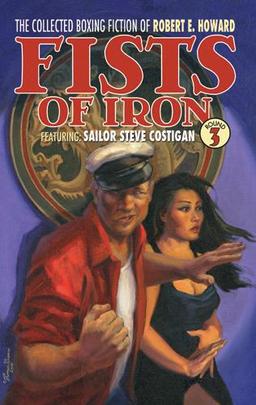 Naturally, the works of Robert E. Howard are popular post fodder here at Black Gate. While Conan is far and away his best known character, REH created many other memorable heroes, including Solomon Kane, El Borak and Kull. Earlier this year, I wrote about Howard's largely forgotten private eye, Steve Harrison.
At the time, I thought that a post on Howard's boxing stories would be good reading. Also realizing I was completely unqualified to write it, I contacted the current czar of boxing fiction, Paul Bishop of Fight Card Books.
Fight Card is a pulp style series of boxing tales. They've included two Holmes boxing novellas in the series, so you know I'm on board! See what Paul has to say about Howard's boxing works.
---
The minute I stepped ashore from the Sea Girl, merchantman, I had a hunch that there would be trouble. This hunch was caused by seeing some of the crew of the Dauntless. The men on the Dauntless have disliked the Sea Girl's crew ever since our skipper took their captain to a cleaning on the wharfs of Zanzibar – them being narrow-minded that way. They claimed that the old man had a knuckle-duster on his right, which is ridiculous and a dirty lie. He had it on his left.
~ Robert E. Howard, "The Pit of the Serpent"
Although best known as the creator of Conan the Barbarian, Solomon Kane, and other sword and sorcery characters, Robert E. Howard had a lifelong interest in boxing, attending fights and avidly following the careers of his favorite fighters. Even though as a child he was bookish and intellectual, in his teen years he took up bodybuilding and eventually entered the ring as an amateur boxer.
---