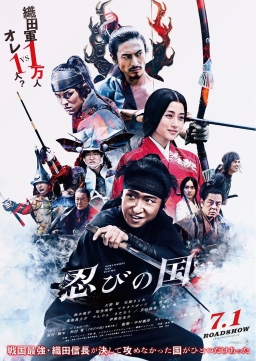 I ran up the steps in the Hall Building, hurrying from the basement where I'd just seen Geek Girls in the D.B. Clarke Theatre to reach the big Hall Auditorium in time to catch my second film of the day. The doors of the auditorium were still open, and I raced in and found a seat just as the movie began. It was called Mumon: The Land of Stealth (Shinobi no kuni), and I settled in knowing I had two more movies to see afterward. Mumon was a period film about ninjas fighting an invasion, and following that would come Bushwick, about residents of a Brooklyn neighbourhood fighting an invasion, then S.U.M.1, a German movie about people in a dystopian future fighting a (possible) invasion. A theme appeared to be emerging. (Two notes: one, Bushwick is now on Netflix in Canada and the US, so for those looking for a quick take on the film I'll say that it's a good enough movie I wish it were better; two, S.U.M.1 has now been given an expanded title, Alien Invasion: S.U.M.1.)
Mumon: The Land of Stealth was directed by Yoshihiro Nakamura (whose previous film The Inerasable I quite liked) and written by Ryou Wada based on Wada's novel Shinobi no Kuni. It's the sixteenth century, and Nobunaga Oda is trying to unify feudal Japan. Standing in the way is the Iga Province, home to the Iga ninjas who will kill anyone for hire. Most prominent among them is one Mumon (Satoshi Ohno), who is as lazy as he is skilled. But his amoral actions lead to a revenge-driven betrayal, setting up a battle between Oda's forces and the ninjas of Iga. But who is one to cheer for in a battle of soldiers and contract killers?
There are some weighty elements to Mumon, posing questions about morality and loyalty and community spirit. Ninjas kill people for money, and being purely mercenary, the ninjas of Iga don't immediately come together to make any kind of effective resistance to Oda. Mumon's no exception, except perhaps insofar as his drive for financial reward comes about in part to keep his beloved wife Okuni (Satomi Ishihara, Hange in the live-action Attack On Titan films) in the style to which she is accustomed. The overall challenge, then, is for Mumon to grow as a person and rally his people as a community to fight off their invaders. That sounds like a fairly lightweight, if not simple, theme; but the movie goes some unexpected places.
---