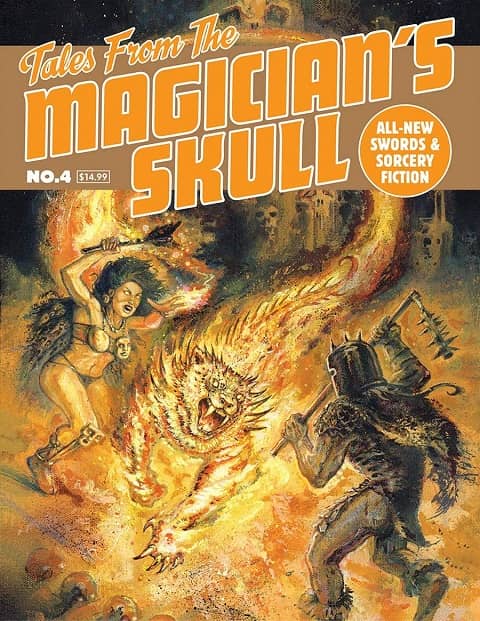 Cover by Doug Kovacs
My copy of Tales From the Magician's Skull #4 arrived today, and it is a beautiful thing. Jam-packed with brand new tales of heroic fantasy from its finest modern practitioners, it is a joy to hold. Edited by Black Gate's very own Howard Andrew Jones, Tales #4 is filled with names that will be very familiar to BG readers, including James Enge, John C. Hocking, Ryan Harvey, James Stoddard, C. L. Werner, and Milton Davis .
In four short issues Tales of the Magician's Skull has become the flagship publication for English language adventure fantasy, and it looks the part. It's an oversized magazine filled with fiction and eye-catching interior art, and it looks and feels like a modern pulp, down to the heavy paper stock, which is a faint yellow color (a nice touch). Designed by Lester B. Portly, it's easy to read and enjoy.
When I was editing the print version of Black Gate, my readers enjoyed serial fiction the most — and wrote constantly demanding more Morlock stories by James Enge, more Dabit & Asim tales from Howard, and Tales of Brand from John C. Hocking. I'm thrilled to see that Tales has the same love of episodic fiction and larger-than-life characters I do — exciting new sword-and-sorcery series are being born in its pages, mixed in with some familiar names (including Morlock, which should please BG readers enormously).
---