A Smalltown Horror Masterclass: Paul Finch on Norman Partridge's Dark Harvest
A Smalltown Horror Masterclass: Paul Finch on Norman Partridge's Dark Harvest

Dark Harvest (Tor Books, September 4, 2007, cover by Jon Foster)
and the film adaptation (Metro-Goldwyn-Mayer Pictures, October 11, 2023)
Paul Finch's "The Carrion Call" appeared in the eighth issue of the print version of Black Gate, and over the last decade he's produced over a dozen Terror Tales anthologies (most recently Terror Tales of the West Country, which Mario Guslandi reviewed for us back in January). But he also maintains Walking in the Dark, one of the more entertaining and informative genre blogs, where he discusses horror new and old.
Last month he reviewed Norman Partridge's modern Halloween classic Dark Harvest, originally published in 2006 — when it received many of the year's major awards, including the Stoker, International Horror Guild Award, and a nomination for the World Fantasy Award for Best Novella. It was adapted into a feature film of the same name, and released for a brief theatrical run this month.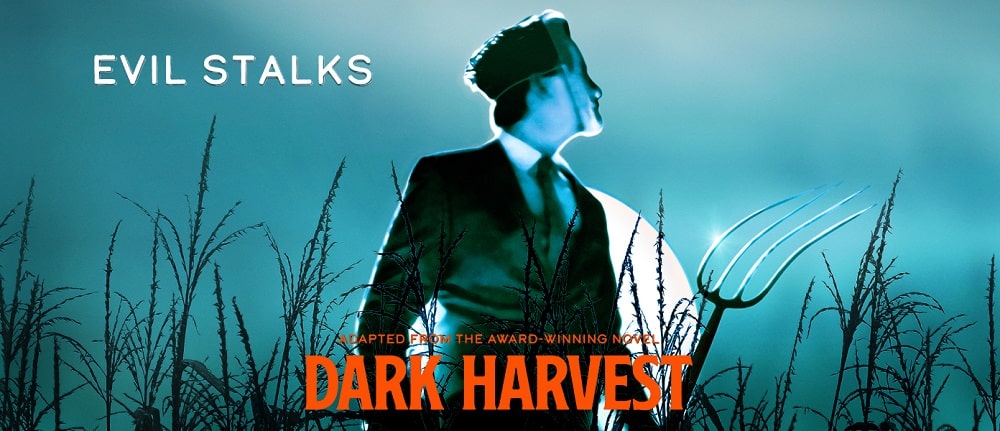 I saw a few trailers for the film version, but missed it in theaters. It had a disastrous release — it was originally scheduled for a theatrical release on September 24, 2021, but was pulled due to the COVID-19 pandemic, and rescheduled a year later once people started trickling back into theaters. But its September 9, 2022 debut was canceled again, and it was finally released (in what they call "select theaters") for a single day by Alamo Drafthouse Cinema on October 11, 2023.
Despite a rocky start, it's had a little more luck with a streaming release. It was the final film distributed solely by MGM following the formation of Amazon MGM Studios Distribution, before Amazon Studios was rebranded. Today the film is available digitally on an assortment of platforms, including Apple TV, YouTube, and Amazon Prime Video.
What about the original book?
In his summary Paul Finch calls it,
Smalltown horror masterclass. Cornfields to every horizon, jocks riding hot rods, a pumpkin-headed monster wielding edged steel, but it's much more than 'stalk and slash.' Surprisingly poignant portrait of Halloween mayhem.
That was the blurb that got my attention, and led me to the review on his blog.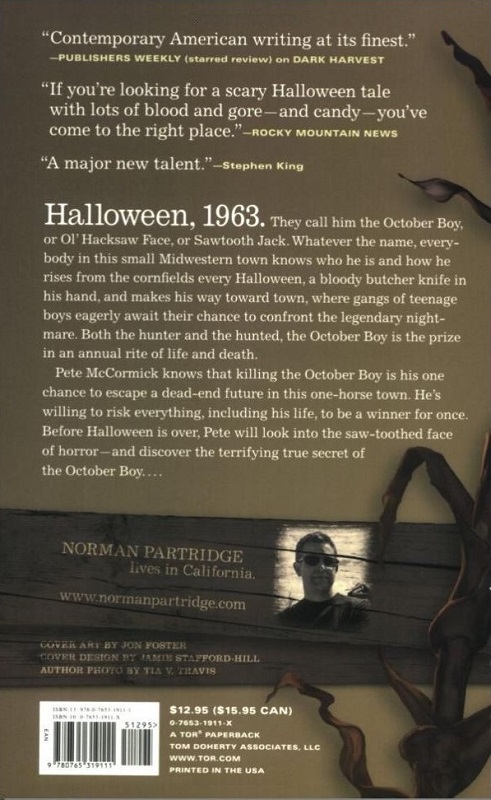 Back cover of Dark Harvest
Here's a slice of the review.
It's 1963, and we're in a nameless Midwest town… [that] lives under an ancient spell, which, depending on the events of each Halloween Night, may leave it in financial ruin, or grant it the huge boon of agricultural success… Each October 31st, a nightmarish figure arises from the pumpkin patch at the end of the black road. It's known by a variety of names – Hacksaw Face or Sawtooth Jack, or more commonly, the Halloween Boy. It takes the form of a suit of raggedy old clothes, now filled with vegetable matter (and candy!), with an oversized pumpkin for a head, on which a truly evil face has been carved.

Every year it's the same story, the monstrosity slowly taking shape on a cruciform structure left out there just for this purpose, and finally, on Halloween Night, released, armed with a butcher's knife and sent on foot into the town, where it will annihilate anyone it encounters, though ultimately, it has a more specific intention: to get to the old brick church at the heart of the curse before the automated bell system sounds the midnight hour. If it succeeds in this, the town is doomed – at least for another year, though the consensus is that it wouldn't survive even a few months under such hardship.

To give the townsfolk a fighting chance, they are permitted to try and stop the monster, but this task may only be accomplished by a male aged between 16 and 18. Thus, every Halloween Night, in an event called simply 'the Run', while everybody else hides, the young guys in the town are out en masse, armed with baseball bats, pipes, axes, knives and pitchforks…

This year though, it might be different, because a loner, Pete McCormick, the son of the town drunk, and a kid in awe of Jim Shepherd, who won the prize the previous year and has since vanished, is determined to find out what lies at the heart of this darkness. He is assisted in this by one Kelly Haines, a girl, so she shouldn't even be on the streets, but someone else who's been abused by the town's authorities and is now determined to get answers (and payback)…

Quite rightly, Dark Harvest won the Bram Stoker Award in 2006 and was named one of the Best 100 Books of the Year by Publisher's Weekly. You don't need to be a horror aficionado to know that wouldn't happen with everyday slasher fare… there's a genuinely warm heart under all this carnage. The monster is not an unthinking killing-machine, the evil is nothing to do with the scariest night of the year, or a witch's curse, or any kind of devil or demon… as our two heroes dig deeper and deeper into the complex mystery… they uncover very human reasons for the perversion of this once homely community…

It's justifiably earned its reputation as one of the best Halloween-flavoured horror novellas on the market. It's a wild ride for sure, but there are very deep tracts here that will satisfy you far, far more than the average 'pitchfork and hatchet' job.
Read Paul's complete review here (at the bottom of the page).
Dark Harvest was published in hardcover by Cemetery Dance Publications in October 2006, and reprinted in paperback by Tor in September 2007. It is 169 pages in paperback, originally priced at $12.95 — and it still in print. The moody and effective cover is by Jon Foster.
We first covered Dark Harvest back in 2017.
See all our recent Vintage Treasures here.