Goth Chick News: The Night We Played Terror Roulette
Goth Chick News: The Night We Played Terror Roulette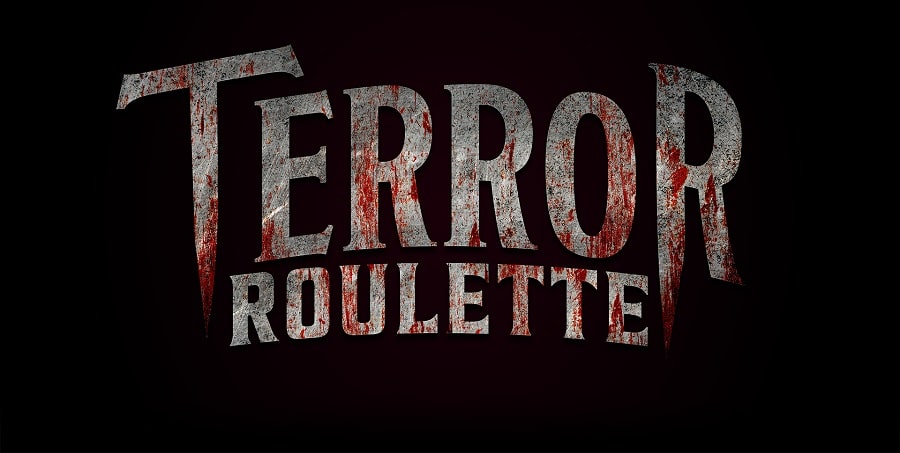 September means one thing here at GCN – haunted attractions grand openings. The result is that Black Gate photog Chris Z and I usually spend most if not all September weekends getting early looks at the latest upgrades to the Chicagoland haunts. I am proud to brag that several entries on any list of "the nation's best haunted attractions" are local to us, which means the bar around here is set pretty darn high.
This year, Chris Z's long-suffering spouse had enough of his haunted house nonsense and booked an extended vacation abroad during the month of September. Though I understand not wanting to try to organize one's wedding anniversary celebration around a Hell's Gate press night, Chris Z's absence left me feeling kind of pathetic. I mean, in the very early days of GCN I used to cover all the events on my own, but I had to admit that I'd grown accustomed to his rolling commentary and snarky asides.
So when Chicago's newest haunted attraction offered me a chance to attend their media night and get an early look, the thought of going alone was just too tragic. As no one could ever match Chris Z's level of sarcasm, I decided to scare up someone who wasn't as accustomed to spooky season, and therefore might provide a certain level of personal amusement. I mean the only thing better than riding a roller coaster with someone who has never ridden a roller coaster, is going through a haunt with someone who isn't accustomed to being jump-scared.
Enter Black Gate photog LP.
Though GCN doesn't exactly have the spooky market cornered at Black Gate, it is our specialty. This means that most of the other content is not focused on horror, and nor is the rest of the staff. BG photog LP was keen to come along to "see what kind of stuff you get up to at GCN," and the fact that she loved a good scare made me all the more interested in having her along. So, off we went to media night at Terror Roulette.
I'd been reading snippets about Terror Roulette since the summer, and it was especially intriguing for two reasons. First, it was located in what one might call a very swanky suburb of Chicago. Often due to the amount of space they need, most attractions are located in far flung places and old warehouses, certainly not in an upscale outdoor shopping mall.
Second, the homepage for Terror Roulette states that all guests will be expected to sign a waiver prior to entry, as well as being equipped with a "safe word" in case they want to tap out. If you ever read my article about the type of attractions that historically require waivers and safe words (if not, you can read it here) then you know these types of "experiences" are not for the faint of heart, and are borderline licenses to torture attendees. It was difficult to reconcile that type of haunt with its location in the Barrington Arboretum mall. It would be like opening Haunted Hoochie in the middle of Disney Springs.
To say I was excited about this was an understatement.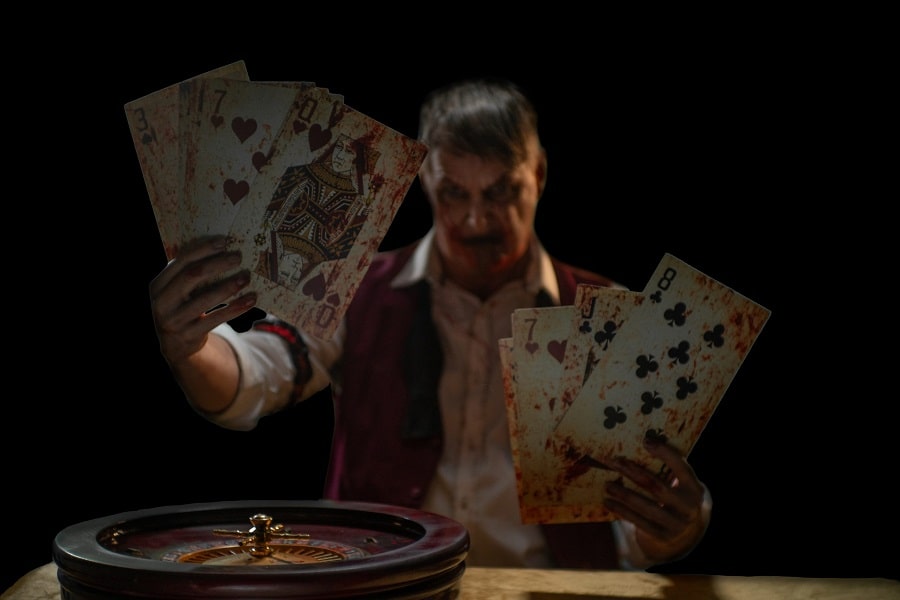 LP and I met in the assigned check-in location, which was Incontro A Tavola, an Italian restaurant located a block down from Terror Roulette. There, manager Paula Voska had an impressive spread of food waiting for the invited media, as well as equally impressive signature drinks. The Rumblebuzz Marketing company who organized the event presented us with swag-bags full of Terror Roulette merch as well as items from the local shops in the mall. Frankly, I had never been to a haunted attraction media night like this. Food? Swag? Craft cocktails? Mostly we're looking at frozen pizza and maybe a beer, but certainly not gourmet chocolates and skin moisturizer.
I could get used to this.
At our assigned time, a Terror Roulette staff member collected us from the restaurant and escorted us down to the attraction. We were informed the completed haunt would have 22 rooms (most of which were still under construction on the night we were there) and that guests would choose a card from "The Dealer" which would dictate their path through a random 17 of the rooms. This is the "roulette" part of the experience as the rooms and the order in which guests move through them has literally hundreds of variations. During the media preview, we would be experiencing three rooms. We were also told that groups of 2 or more guests who come into Terror Roulette together, would most likely be split up and some guests may end up solo by the end. I tried to get a bead on the whole safe word and waiver thing at the outset, but was told questions should be held until the Q&A after we had gone through the rooms.
LP had already agreed in advance to be the one to wear the GoPro. Filming one member from each outlet as they experienced the attraction was another cool thing I'd never seen done before. So LP got equipped with a night vision camera and mic, and then we were given the signal to enter Terror Roulette.
As the veteran of more haunted attractions than I can count, I was skeptical that this would be anything all that different.
But it was.
Terror Roulette is a combination of escape room and haunt. Some rooms are pure haunt, while others require guests to perform some action or interaction in order to move on to the next room. For example, the first room we experienced was pure haunt. A deranged, sewer-dwelling madman with a lovely young captive screaming for help, taunted LP into pulling a lever which filled the area with "scalding steam" effectively boiling the skin off the victim. Ten out of ten for special effects, set design and actors. However, in another room we had to play a demented game with a dead ringer for Heath Ledger's joker that if we lost would see us crushed between two walls, one covered in knives.
You can watch a bit of LPs experience below.
What we learned during the Q&A is that the Barrington Arboretum hired event company IWG Productions, designers of large-scale marquee attractions, to create this unique experience just for the mall. IWG in turn engaged Scott Swenson, a 30-year veteran of creating attractions for theme parks, consumer events, and live theater. Swenson literally wrote the book on scaring people as the author of The 13 Commandments of Haunting: Foundational Concepts Every Haunter Needs to Make a Successful Haunted Attraction.
He explained that the inspiration for many of the rooms was his nightmares and that he approaches each vignette as a scene from a film. Jeffrey Holmes of IWG Productions explained,
Terror Roulette blends adrenaline and suspense to create an immersive environment for those seeking an unparalleled thrill. Because The Dealer, just like fate, is fickle, no two visits will be the same.
Where most of the attractions I cover each season are the culmination of years of investment and labor by a small, dedicated team of owners/operators, Terror Roulette was a big budget curated attraction in which no expense appeared to be spared. From costumes, to set design, to escape room games, every aspect of the experience was professional and set-grade.
| | |
| --- | --- |
| | |
Though no part of Terror Roulette came close to the other experiences we know of which require a waiver and safe word, having both here made sense. One of the rooms will eventually contain live snakes and in another room I got a low voltage shock to my hand (not painful, just…shocking). Swenson explained that as some of the rooms could be traumatic to certain people, the waiver and safe word are in place out of an abundance of caution and concern for the safety and comfort of guests. It also makes for incredible marketing. Saying you'll need to sign a waiver before experiencing Terror Roulette is a guaranteed way to ensure it will be packed to capacity every night.
I'm def dragging Chris Z to experience the fully operational haunt as soon as he's back.
Terror Roulette will be available for a limited time starting Sept. 29 – Oct. 31 running Thursdays through Sundays, extending through Halloween, in South Barrington, IL.
Thanks to Naydaliz De Jesus from Rumblebuzz Marketing, Terror Roulette creative director Scott Swenson, and IWG Productions for making this an event for the GCN books. A special thanks to photog LP for being such an entertaining companion and a great sport.