Goth Chick News Reviews: How Did I Miss This Fab Vamp Film??
Goth Chick News Reviews: How Did I Miss This Fab Vamp Film??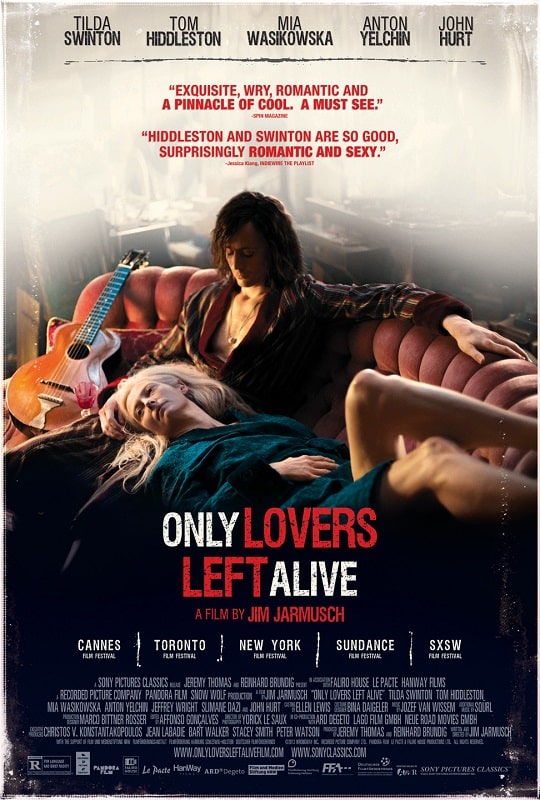 Only Lovers Left Alive (Sony Pictures Classics, April 11, 2014)
Last week as I did research for my article about the upcoming reimagining of The Bride of Frankenstein, I stumbled across a vampire movie I had not only never seen but had never heard of, and the rarity of this occurrence cannot be understated. Vampires are my favs and though my crappy memory for names and dates means I'll never consider myself an expert in the genre, I am proud to say that my experience of them in literature, movies, and folklore is pretty darn comprehensive. So, when I found the movie Only Lovers Left Alive (2013), there was nothing for it but to cancel all plans for the evening, order Door Dash, and tuck in to stream this title which had somehow eluded me for ten years.
The first thing to love is that the film cast was comprised of some incredible actors. Tilda Swinton and Tom Hiddleston play the two main characters Eve and Adam. But then there is Mia Wasikowska (Alice in Wonderland), the late great Anton Yelchin (Star Trek and Fright Night), Jeffrey Wright (Westworld), and the extraordinary John Hurt. The writer/director is Jim Jarmusch, who was also responsible for the zombie spoof movie The Dead Don't Die (2019), which also starred Swinton, and who according to Jarmusch's bio, is a bit of a muse of his.
[Click the images for lover-sized versions.]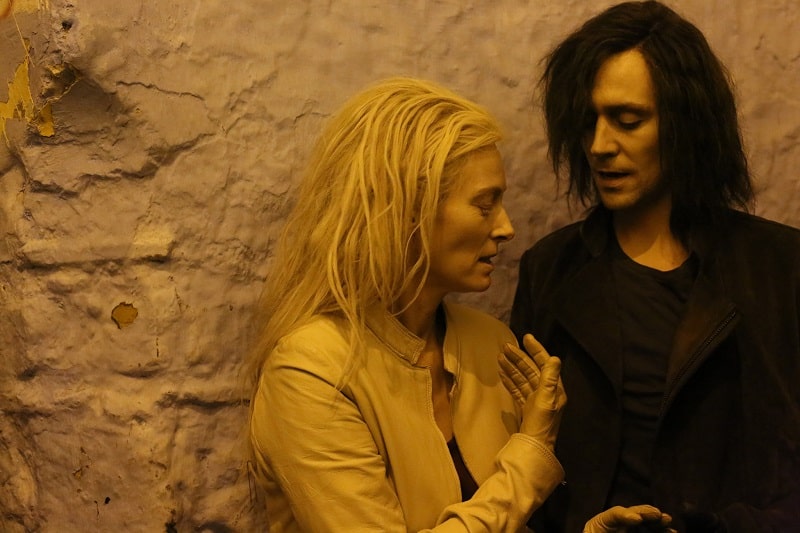 Eve (Swinton) and Adam (Hiddleston)
Eve and Adam are vampires of course, though they are not meant to be the biblical entities of the same names. For unexplained reasons, Eve is living in Tangiers, immersed in literature and art, and being sustained by blood procured for her by her beloved friend "Kit" (John Hurt). A world away in Detroit, Adam is a famous rock musician who is obtaining his sustenance through an arrangement with Dr. Watson (Jeffrey Wright) at the local blood bank. Adam has become depressed and disillusioned with his very long life, and contemplates suicide via a custom-made wooden bullet, and his vamp melancholia brings Eve to his side (night flights only). She devises various outings and entertainment to bring Adam out of his black mood until Eve's "sister" Ava appears and upends the peace.
Here is a small taste of OLLA via the trailer…
I could not help but see quite a few parallels between OLLA and another artistic vision of vampires, The Hunger (1983). In both films the violence of a vampiric existence is a subplot, and the focus is primarily on the weight of time on characters who have lived for hundreds of years. Music also plays an important role in both stories, reminding me that I must try and put together a playlist of the songs in OLLA, which were outstanding. And like The Hunger, OLLA is very visual, with the sets and backgrounds nearly always adding another layer of meaning to the scenes.
The plot of OLLA is unique in this genre. It is dark and sometimes violent, yet it has a sense of humor. Yelchin's character, as Adam's human sidekick Ian, is far more fan-boy roadie than anything close to Dracula's Renfield. Ian doesn't know his boss is a vampire, but instead believes him to be an eccentric musical genius more interested in procuring rare guitars than groupies.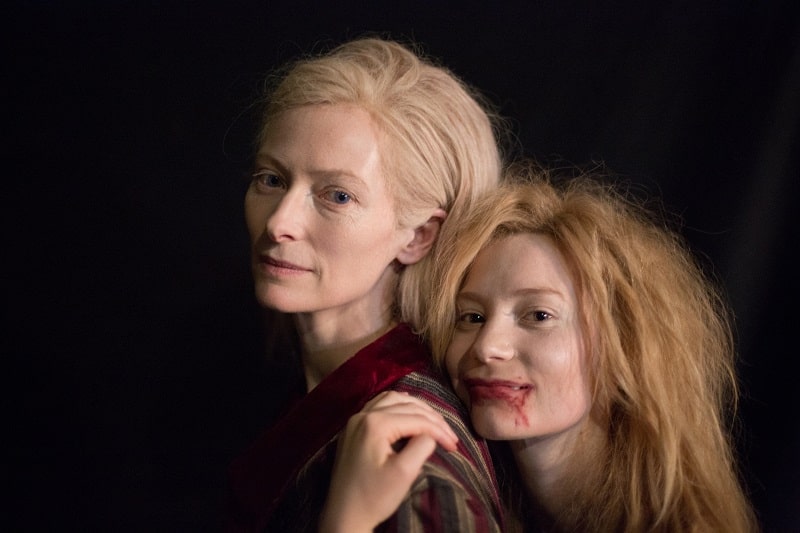 Eve (Swinton) and "little sister" Ava (Wasikowska)
Eve calls impulsive disruptive Ava (Mia Wasikowska) her younger sister, though a mumbled aside reveals the interesting tidbit that they simply both had the same "maker." Ava is a hitchhiking free spirit, reminiscent of a 1960's California hippie girl. But for her it's "sex, blood and rock-n-roll." John Hurt's character is a wonderful literary surprise that I won't spoil for you, but "Kit" is just another layer of smart added to an already thoughtful take on the concept of immortality.
All in all, Only Lovers Left Alive was an unexpected gift to kick off the spooky season here at Goth Chick News. It's available on pretty much every streaming service and I highly recommend you check it out, if vamps are your thing.