The Greatest City in Fantasy: Lankhmar, City of Adventure by Bruce Nesmith, Doug Niles, and Ken Rolston
The Greatest City in Fantasy: Lankhmar, City of Adventure by Bruce Nesmith, Doug Niles, and Ken Rolston

Lankhmar, City of Adventure (TSR, 1985). Cover by the legend Keith Parkinson
I would like to round out my posts on tabletop RPG city supplements with my personal favorite: Lankhmar, City of Adventure, which is the home of Fritz Lieber's Fafhrd and the Gray Mouser. Published in 1985 by TSR for Advanced Dungeons & Dragons, this book was written by Bruce Nesmith, Doug Niles, and Ken Rolston. The cover art is by the legend, Keith Parkinson, and the interior art is by the great Jeff Easley. Cartography by Geoff Valley, Curtis Smith, and Tracy Hickman.
Wow, I don't know where to begin with this one! I absolutely adored the fiction of Fritz Lieber, devouring his Lankhmar works and even some of his sci-fi at a young age. Lieber was a friend of Gary Gygax, and he was among a handful of Gygax's favorite authors. Thus, I think it's important to note that the content of the Fafhrd and Gray Mouser tales was incredibly inspirational to Gygax, and this comes across in the tone and themes of D&D — which essentially is a melting pot of fictional inspirations. My point is, you can't simply look at this supplement as a fictional property that was adapted to the D&D game, because the DNA of Lankhmar was already embedded in D&D to begin with.
[Click the images for Lankhmar-sized versions.]

Lankhmar Temple District, and city geomorphs
Lankhmar, City of Adventure has been a resource that I've used for decades. I've referenced it for city play while gaming with my friends, and I've used it as a template to create unique city encounters, factions, guilds, and religions in professional work I've done. It is a bona-fide inspiration!
One of my favorite features is the districts detailed throughout, each with their different themes, events, and personages. In a sense, the districts each function like an archetype that can be utilized to advance plot hooks and adventure seeds — locations, characters, and scenarios that can get the players invested in the city campaign.

The game booklet, and stats for both Fafhrd and the Gray Mouser
If it's been a while since you've read Lieber's fiction, the writers of this book offer synopses of each story with Fafhrd and the Gray Mouser. But if you haven't read Lieber, you really should! He was a master of the craft, and his creative output had a direct impact on the design and development of D&D.
Lastly, this book also has a "make it your own" quality to it; meaning, it has open spaces on the map that function as an invitation for you to plug in your own structures, features, and so forth. The end result is that everyone who uses this supplement ends up with their own unique Lankhmar, which I think is wonderful.

City maps, and interior art by Jeff Easley
For the poster-sized city map, the authors left many sections blank to allow you to make your own additions. On my original (lost to the ages) I drew in those boxes.
There have been more recent adaptations of Lanhkmar, including the Dungeon Crawl Classics boxed set by Michael Curtis. I supported the Kickstarter. It's quite good.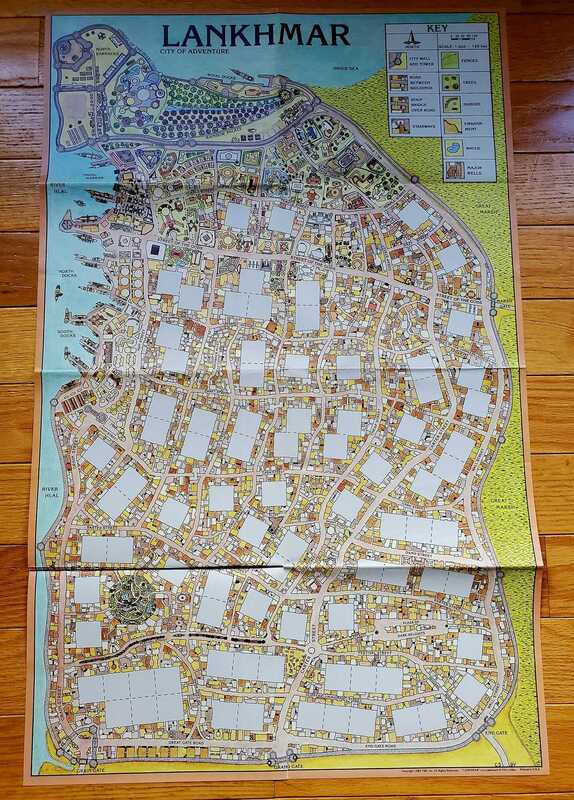 Lanhkmar city map, with blanks spaces for you to individualize the city
Previous articles about Lankhmar here at Black Gate include:
Danger in Every Dark Alley: 40 Years of Adventuring in Lankhmar, Fritz Leiber's Great Fantasy Metropolis by John O'Neill
Dual Structures in Fritz Leiber's Fafhrd and the Gray Mouser Stories and Robin Wayne Bailey's Swords against the Shadowland by Gabe Dybing
He Sought Adventure by James Maliszewski
Fritz Leiber, Edgar Rice Burroughs, and Appendix N: Advanced Readings in D&D by John O'Neill
PS: Did you know that in the July 1961 issue of Amra, Fritz Leiber coined the term "sword-and-sorcery"? He wrote, "I feel more certain than ever that this field should be called the sword-and-sorcery story."
---
Jeffrey P. Talanian's last article for Black Gate was a review of the Cities supplement by Stephan Abrams and Jon Everson. He is the creator and publisher of the Hyperborea sword-and-sorcery and weird science-fantasy RPG from North Wind Adventures. He was the co-author, with E. Gary Gygax, of the Castle Zagyg releases, including several Yggsburgh city supplements, Castle Zagyg: The East Mark Gazetteer, and Castle Zagyg: The Upper Works. Read Gabe Gybing's interview with Jeffrey here, and follow his latest projects on Facebook and at www.hyperborea.tv.