From the Age of Splatbooks: Charlemagne's Paladins by Ken Rolston and Roger Raupp
From the Age of Splatbooks: Charlemagne's Paladins by Ken Rolston and Roger Raupp

Charlemagne's Paladins (TSR, July 1, 1992)
One of the more interesting developments during the AD&D Second Edition years (1989-2000) was the Historical Reference series of campaign sourcebooks.
These green "splatbooks" were well-researched, taking a broad view of history, myth, and legend, and looking at all of it through a D&D lens. Charlemagne's Paladins is one such shining example. Written by Ken Rolston, illustrated by Roger Raupp, and with cartography by Gaye O'Keefe, this sourcebook adapts the historical setting of the Carolingian period into a quasi-game world, featuring the historical and legendary personalities and events of Charlemagne's time.
[Click the images to frustrate Charlemagne with bigger versions.]

Interiors from Charlemagne's Paladins
I've only got three of these green splatbooks, and I would love to hunt down the others, but the prices on eBay are mad!
Above and below are a few photos of the interiors, plus a photo of the map that came inside the book.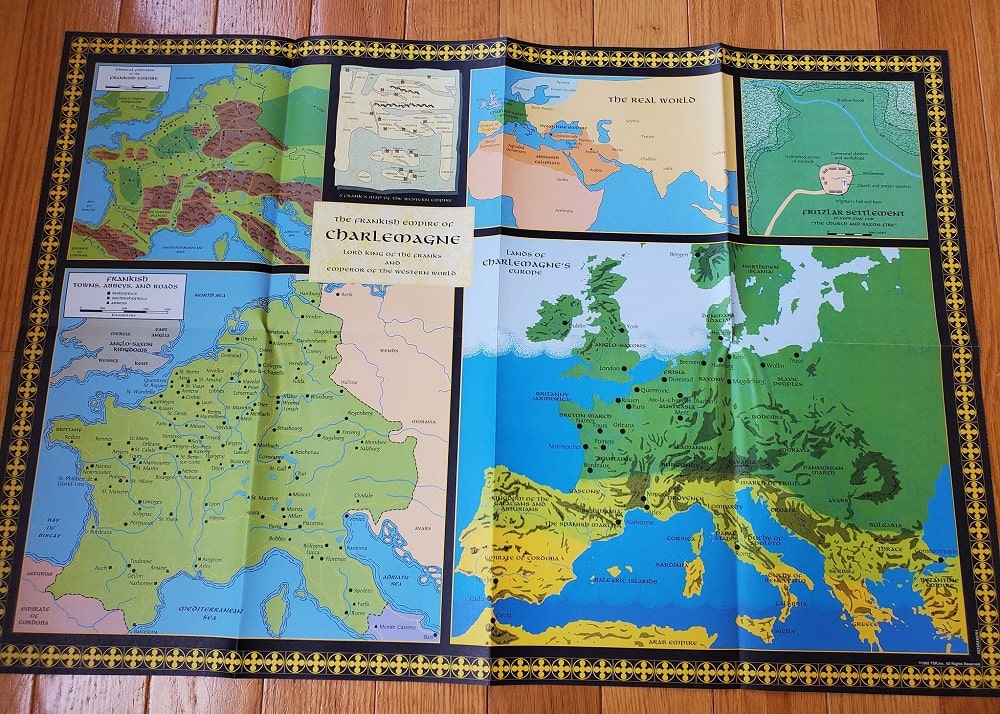 Charlemagne's Paladins map
---
Jeffrey P. Talanian's last article for Black Gate was a look back at Mordenkainen's Fantastic Adventure. He is the creator and publisher of the Hyperborea sword-and-sorcery and weird science-fantasy RPG from North Wind Adventures. He was the co-author, with E. Gary Gygax, of the Castle Zagyg releases, including several Yggsburgh city supplements, Castle Zagyg: The East Mark Gazetteer, and Castle Zagyg: The Upper Works. Read Gabe Gybing's interview with Jeffrey here, and follow his latest projects on Facebook and at www.hyperborea.tv.