The Spoils of Capricon: Rooks and Ruin by Melissa Caruso
The Spoils of Capricon: Rooks and Ruin by Melissa Caruso

The Rooks and Ruin trilogy: The Obsidian Tower, The Quicksilver Court, and The Ivory Tomb
(Orbit, 2020, 2021, and 2022). Covers by Peter Bollinger, Mike Heath, and Peter Bollinger
On Saturday I was wandering through the well-stocked Dealer's Room at Capricon 43 in Chicago with Rich Horton, looking for new books of all kinds. (And if there's a guy you want at your side as you struggle to find quality books, believe me, it's Rich Horton. He has great taste and a well informed opinion on everything — and I do mean everything.) I stumbled on the newly-released The Ivory Tomb, the concluding novel in Melissa Caruso's Rooks and Ruin, and read the first paragraph of the back cover.
The Dark Days have returned. The Demon of Carnage mercilessly cuts through villagers and armies. The Demon of Corruption rots the land. The Serene Empire and the Witch Lords race towards war. And in the middle of it all stands Rxyander, the Warden of Gloamingard.
That's a lot of demons. Do I really want to read a trilogy about Dark Days, demons, Witch Lords, and a gloom-shrouded castle called 'Gloamingard'??
Ha! You know me so well. Of course I do. I bought that book so fast Rich didn't even know what happened.
Melissa Caruso is the author of the Swords and Fire trilogy, also from Orbit (The Tethered Mage, The Defiant Heir, and The Unbound Empire). Rooks and Ruin shares a setting with her earlier series, though it's set 150 years later. When I discussed The Obsidian Tower back in 2020 I quoted from James Tivendale's splendid review for  GrimDark magazine:
Ryx is a vivomancer but her magic is flawed and so twisted that it is dangerous. Anyone she touches dies, which, to her dismay, has happened a few times. At twenty-one years old, her role is to look after the castle in Gloamingard and at the beginning of the narrative, she is hosting a conference with neighbouring Alevar and the Serene Empire. Her castle is full of nooks, crannies, and secret passages, many of which seem only known to Ryx, as well as being host to a mysterious tower with a magical door which must not be unsealed….

Caruso is a terrific writer who weaves fascinating and intricate fantasy tales that are heavily focused on magic and politics. In The Obsidian Tower Caruso also introduces mystery elements to the mix which fit perfectly with her style…. [it's] brimming with many well-crafted and colourful characters… My personal favourites were the formidable ruler of Morgrain The Lady of Owls, the mysterious Severin, the envoy from the neighbouring Alevar, the talking fox-like Chimera and castle guardian Whisper, and the loveable oddballs that make up the Rookery….

The Obsidian Tower is an entertaining, well-written, and expertly-paced novel with incredible magic schemes and a great cast of characters.
Maddalena at Space and Sorcery has a fine wrap-up of the entire series with her review of The Ivory Tomb.
It's become clear to me that [Melissa Caruso] likes to deliver her maximum narrative impact with the final book: the first two volumes in the Rooks & Ruin series set the playing field and shaped the main characters, and were certainly supported by a good dose of dramatic moments and momentous revelations, but The Ivory Tomb brings all those elements toward such a harrowing climax that at times I felt emotionally drained – and I say this in the most complimentary way possible.

When we first met Ryx, the protagonist of the story, she led a forcibly sequestered life because her "tainted" magic made her touch deadly for any living thing, and it was only her meeting with the Rookery – a group of special agents dealing with out-of-bound magical phenomena – that she was allowed to interact with others in a normal way… Ryx could not enjoy her period of grace for long, because the escape of several demons, held captive in the prison to which her castle guarded the portal, threw the world into renewed turmoil, further weighted by the double revelation that Ryx had long been the host for the demon of Disaster and that her beloved grandmother was now hosting the demon of Discord.

The freed demons – particularly Carnage, Corruption and Hunger – are on a rampage in The Ivory Tomb, laying waste to everything and everyone they encounter on their path and doing their worst to compound such devastation by setting the Raverran and Vaskandar empires on the warpath through misinformation and the skillful rekindling of old grudges. Poor Ryx finds herself torn in more than one direction as she tries to help her friends defuse the situation, capture the escaped demons and save the people she loves from becoming victims of the ravages of war. Not to mention avoid being imprisoned (or worse) herself because of the demon to which she has long been a vessel…

The Ivory Tomb is not only the magnificent conclusion to a well-crafted saga, it's above all a breathless, heart-stopping marathon through a series of events whose increasing stakes will compel you to turn the pages as quickly as you can.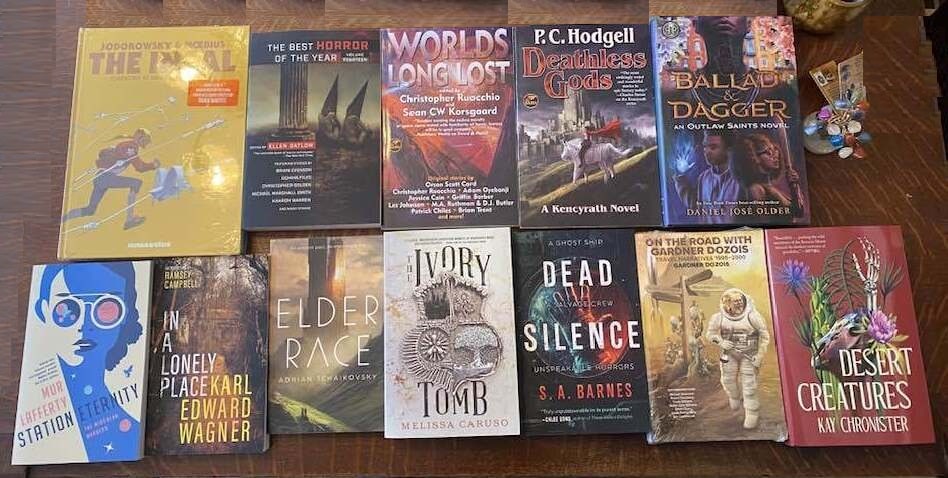 The books I brought home from Capricon 43
All told I brought about a dozen new books home from Capricon 43 — a modest haul, I think. (Rich may have made a better selection — I'll leave that for posterity to decide.)
I've already covered Worlds Long Lost; it's a toss-up which one I'll read next, but my money is on Volume One of The Incal by Alexandro Jodorowsky and Moebius, which Greg Ketter at Dreamhaven sold me. It's a classic of French comics, and I've wanted to read it for years. The collected travel writings of Gardner Dozois looks interesting too, believe it or not.
Here's the complete publishing details on Rooks and Ruin.
The Obsidian Tower (483 pages, $16.99 in trade paperback/$9.99 digital, June 2, 2020) — cover by Peter Bollinger
The Quicksilver Court (544 pages, $16.99 in trade paperback/$9.99 digital, October 12, 2021) — cover by Mike Heath
The Ivory Tomb (544 pages, $17.99 in trade paperback/$9.99 digital, December 6, 2022) — cover by Peter Bollinger
All three books were published by Orbit. Read a lengthy excerpt from The Obsidian Tower here.
See all our recent coverage of the best new SF and fantasy series here.