Goth Chick News: I Need a Thing
Goth Chick News: I Need a Thing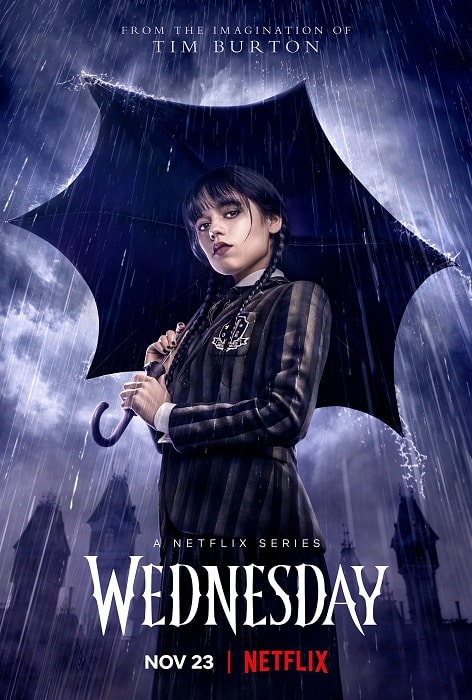 Appropriately, Netflix launched its new mega-hit series Wednesday on the Wednesday before Thanksgiving. This was brilliant marketing even though you might have suspected this gothic, Tim Burton creation would have been better suited for release in October. Instead, a late November release capitalized on the fact that most of us would be in some sort of carb coma Thanksgiving weekend, unable to move anything but the finger it would take to operate the TV remote. We would, therefore, be more than happy to roll up on the couch and binge-watch.
And much as it pains me to say it, the marketers were right.
According to The Hollywood Reporter, Wednesday enjoyed the biggest ever opening week for an English language series in Netflix history, overtaking the previous record set by ratings behemoth Stranger Things. Wednesday racked up a staggering 341.2 million hours of viewing globally last week, beating the previous 335 million hours set by Stranger Things season 4.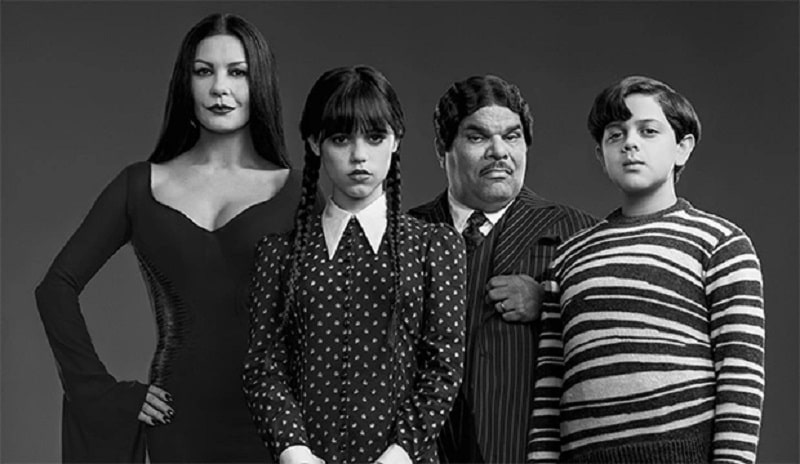 It's fairly certain that if you're here at Black Gate, then you're also the sort of person who has likely already heard about, if not already watched Wednesday. But just in case, here are a few fun, non-spoiler facts:
Tim Burton has been trying to do an Addams Family project for over thirty years. Originally Burton passed on directing The Addams Family (1991) because he was busy with Batman Returns (1992).
Christina Ricci, who was Wednesday in the 1991 Addams Family movie, portrays "normie" botany teacher Marilyn Thornhill.
Jenna Ortega, who plays Wednesday, and who you may recognize as good girl Lorraine from the movie

X

, took cello, archery, and fencing lessons and also studied German to perfect her character.
Gwendoline Christie, our favorite Game of Thrones warrior Brienne of Tarth, plays the headmistress of Wednesday's school, Nevermore Academy. You won't have to look too hard to see that her look was inspired by Tippi Hedren in The Birds (1963). Christie also told

Entertainment Weekly

it was the first time she felt beautiful on screen.
Morticia explains that Wednesday's name comes from a line of a nursery rhyme that goes "Wednesday's child is full of woe." Every episode title of Wednesday contains the word "woe."
Admittedly, Wednesday hits me where I live which explains why I'm already on my second viewing. For a goth chick (or most anyone for that matter) there is absolutely nothing not to love about this series.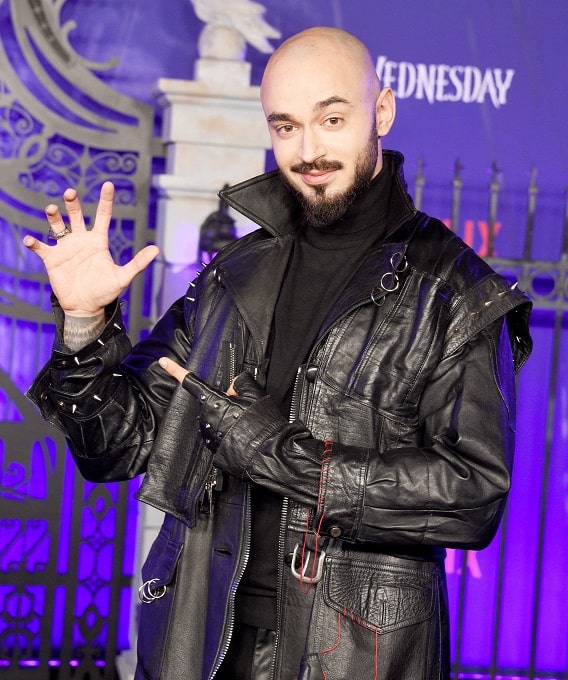 Victor Dorobantu
It has the nostalgia of the original characters, the broodingly beautiful sets that Tim Burton is known for, and a whole lot of depth of character masterfully hidden behind black humor and a murderous plotline. And without giving anything away, one of the very best things is Thing, the iconic Addams family hand, who is tasked with watching over Wednesday at school by Gomez (Luis Guzmán) and Morticia (Catherine Zeta-Jones). Hard to believe the incredible range of emotion demonstrated by a disembodied hand, but kudos must be given to Victor Dorobantu, actor, magician, illusionist, and the body behind Thing.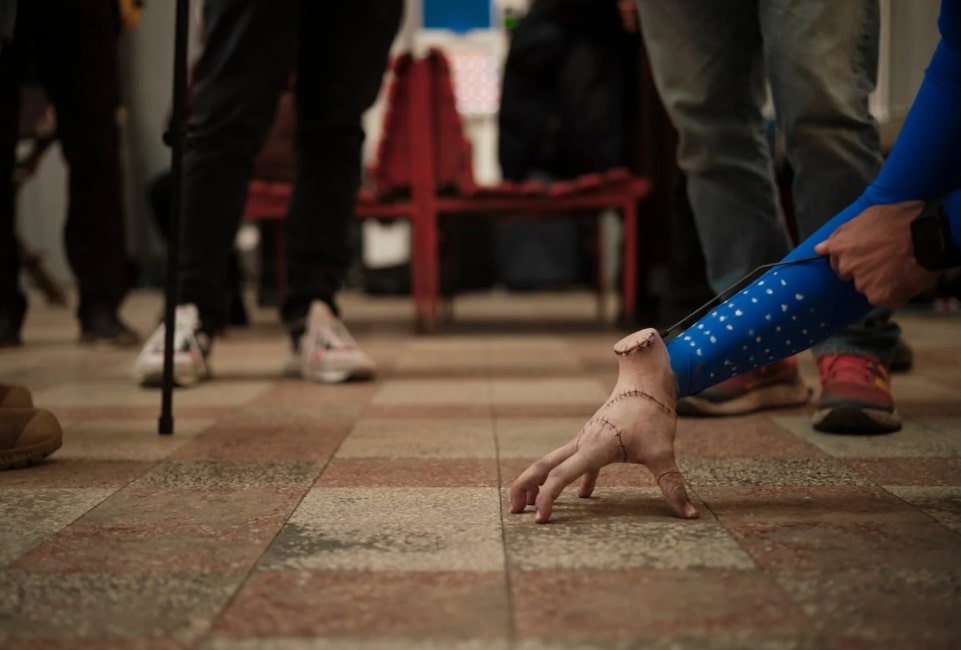 Speaking about creating Thing and Wednesday's friendship, Jenna Ortega told Screen Rant,
Tim (Burton) wanted it to be an actual actor like they did in the '90s films, so it was this magician named Victor (Dorobantu). He would wear a full blue suit, and he would hide behind walls and underneath beds. Then they built this prosthetic on top of his hand so that it looked like a wrist knob, and he would walk around. Tim really liked his mannerisms, and he would spend hours in hair and makeup every day just getting that hand on.
I may need to go out on a limb here and say that Thing was my favorite character in Wednesday aside from Wednesday herself, and was responsible for the scenes that made me laugh the hardest.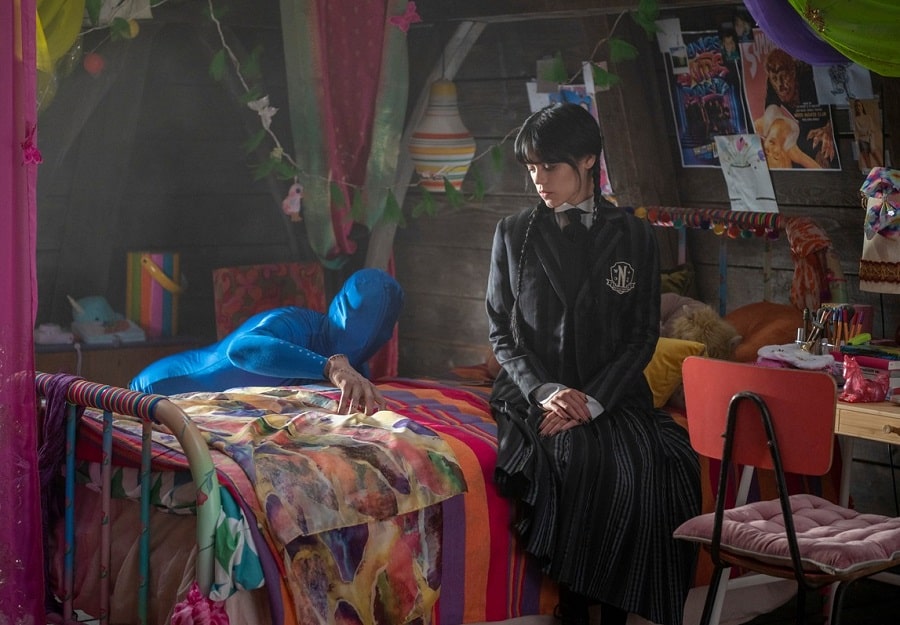 The idea that Dorobantu was physically up behind Ortega in many of their scenes is on its own, hysterical. It is my sincere hope that Amazon creates a Thing version of Alexa; an animatronic hand that galumphs along behind me on its fingers and does my bidding. I'm not even asking for a "real," sentient severed hand who will watch over me and be my sidekick… yet.
Wednesday is currently streaming on Netflix and word on the grapevine is that it has already been greenlighted for a season two.
And that is a thing of beauty…