Goth Chick News: AMC's Interview with the Vampire Brings a Classic Novel Back from the Dead
Goth Chick News: AMC's Interview with the Vampire Brings a Classic Novel Back from the Dead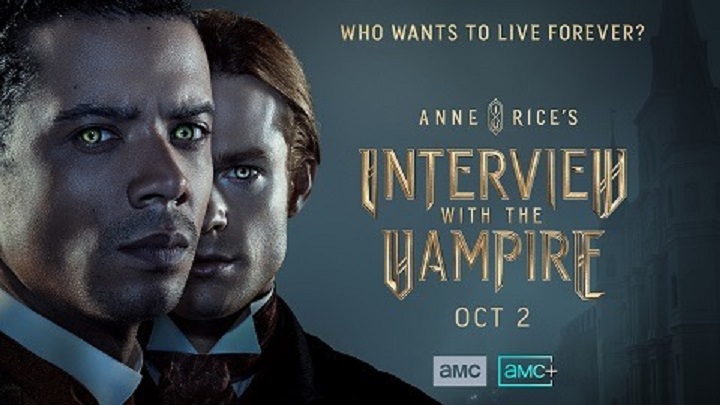 To say I have a lot of feels about what I'm about to tell you is an understatement.
Author Anne Rice, who passed away from complications of a stroke last December at age 80, had been a large part of my life for a very long time. I, like so many, fell in love with her first novel, Interview with the Vampire back in high school. From there I devoured all of her vampire and witch novels, buying each one in multiple formats. Because of Rice I took my first trip to New Orleans where much of these novels are set and where Rice herself lived at the time, in an antebellum mansion in the Garden District.
I fell as hard for NOLA as I did for Rice's books and to this day I travel there several times a year to soak in atmosphere as dense and timeless as the immortals she wrote about. Throughout these years I came to have a nodding acquaintance with Rice herself, first seeing her at each of her book signings, and finally landing an annual invitation to attend her "Vampire Ball" held in NOLA each October. We didn't hang out or anything, but she did call me by name and take time to chat each time we met.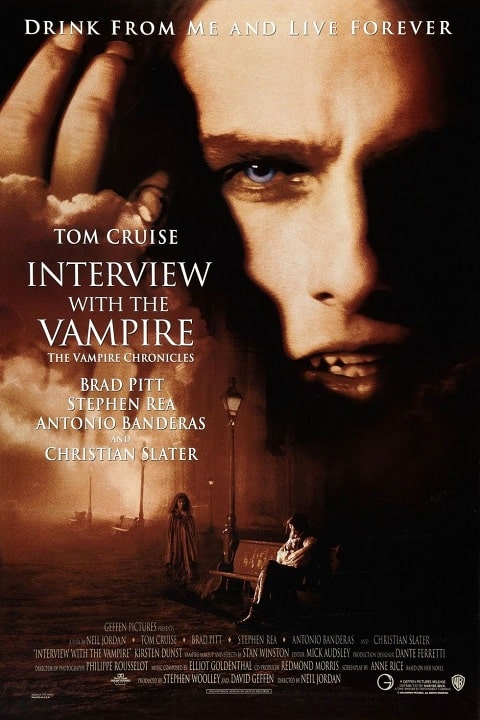 Interview with the Vampire (Warner Bros., 1994)
When Interview with the Vampire was made into a movie in 1994 starring Tom Cruise and Brad Pitt, I agreed with Rice's displeasure at Cruise's casting. And though she publicly retracted her condemnation, saying Cruise was the perfect Lestat, I never really completely agreed. Then came the movie Queen of the Damned in 2002, which hurriedly tried to tie up several subsequent books into one film, failing pretty much on all fronts. In 2006, Rice's second vampire novel The Vampire Lestat even got the musical treatment on Broadway, which music written by Elton John and Bernie Taupin couldn't save. It closed after 39 performances.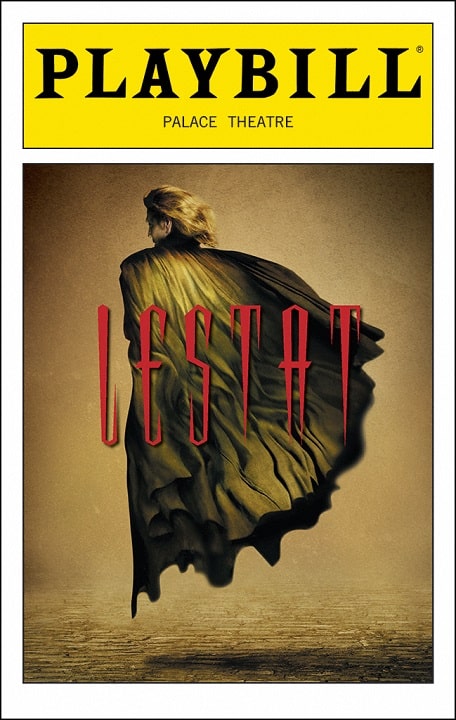 Playbill (March 2006)
Then Rice herself tried to put Lestat in his proverbial grave forever. Following the death of Rice's husband in 2002, Rice ceased writing tales of supernatural, decamped from New Orleans to California, and reestablished her connection with her Catholic upbringing. She denounced her previous works and took to writing religious novels.
I tried to stick with her, but in my view these new works were largely unreadable, regardless of their subject matter. Whereas Rice's grief at the loss of her young daughter to illness in 1972 gave rise to the writing that made her famous, her grief at the loss of her beloved Stan seemed to sap her literary magic.
But it was when hurricane Katrina hit New Orleans in 2005 that I finally gave up on Rice altogether. Rice had been NOLAs favorite daughter. The city embraced and celebrated her, while Rice fans brought millions of tourism dollars to the city. In 2006 when the city was still recovering from Katrina's devastation, city leaders asked Rice to come back to NOLA in October in hopes a few events including her would jump-start the local tourism industry. Rice refused. She clearly had her reasons, but at that point she had vehemently denounced all her prior work, without denouncing (or donating) the money that work had brought her. Now she turned her back NOLA when it needed her most. While her current slate of novels had lost my literary interest, her choices lost me on a personal level.
I wasn't alone in my feelings. Rice's fans were not following her to her new storylines, Hollywood had no interest in optioning them, and while NOLA continued to sell tourists on coming to the hub of the supernatural, Rice's name faded from the lips of the Vampire Tours guides. So, it's probably no shocker that round about 2010 Rice walked back her comments about trafficking with witches and vampires. She released two werewolf novels, then a sequel to The Mummy in 2017, before resurrecting Lestat via the novel Blood Communion in 2018. Though these works did introduce her previous novels to a new audience, they never reached the blockbuster status of the original works.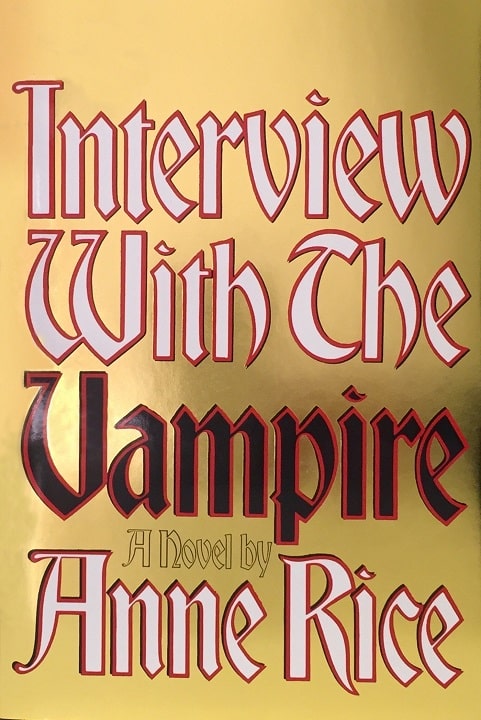 Interview With the Vampire by Anne Rice (Knopf, May 1976)
During this same timeframe Rice herself, accompanied by her adult son Christopher, started looking to bring Rice's works to the small screen. With Rice and son shopping her properties as executive producers, there were many discussions and an almost-deal with Hulu. Finally in May 2020 an agreement was reached with AMC. The network acquired the rights to Rice's Vampire Chronicles and Lives of the Mayfair Witches book series, giving it access to develop film and television projects from any of the eighteen titles under both series. At the time the deal was struck, Rice was quoted on website The Wrap as saying:
It's always been my dream to see the worlds of my two biggest series united under a single roof so that filmmakers could explore the expansive and interconnected universe of my vampires and witches. That dream is now a reality, and the result is one of the most significant and thrilling deals of my long career.
Now, this week, the first episode of the first season of Rice's first property, Interview with the Vampire, premiered on the AMC+ streaming service. Like its predecessors, it was not without controversy. Some liberties had been taken with the other two main characters, this time Louise Pointe du Lac, formerly portrayed on film by Brad Pitt, and Claudia, formerly played by Kirsten Dunst. AMC has depicted Louis' character as a free person of color in 1910 New Orleans, also bringing the story 120 years into the future, while blonde-haired doll-like Claudia is also portrayed as a young girl of color. Both of these casting choices make absolute sense when taken in the context of New Orleans at that time. These changes were not at all worrisome to me, compared to the concern that the story itself would once again be done an injustice.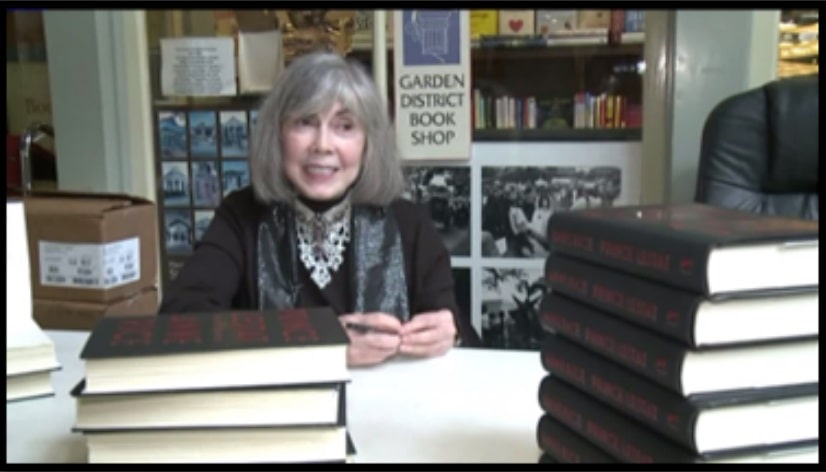 Anne Rice signing books in her local bookstore in NOLA
I have now watched episode one, twice. I am thankful that AMC did not drop the entire season at once, or I'd have missed work the next day for sure. I am grateful that this incredibly rich story with its stunning visuals will need to be savored over weeks instead of consumed in hours. I loved that the backstories of the characters we have met so far, have been expanded and enriched in ways that do differ from the book, while staying incredible true to it.
I appreciate that my friends who never read, or don't remember the novel are in no way lost, but now want to read the source material. I am grateful for the chance to revisit stories that meant so much to me in the past, and can't wait to see what AMC does with them in the future. In short, AMCs Interview with the Vampire has succeeded where other tellings miserably failed.
I am sure Anne would have been proud, and it makes me miss her.