New Treasures: Lost Worlds & Mythological Kingdoms edited by John Joseph Adams
New Treasures: Lost Worlds & Mythological Kingdoms edited by John Joseph Adams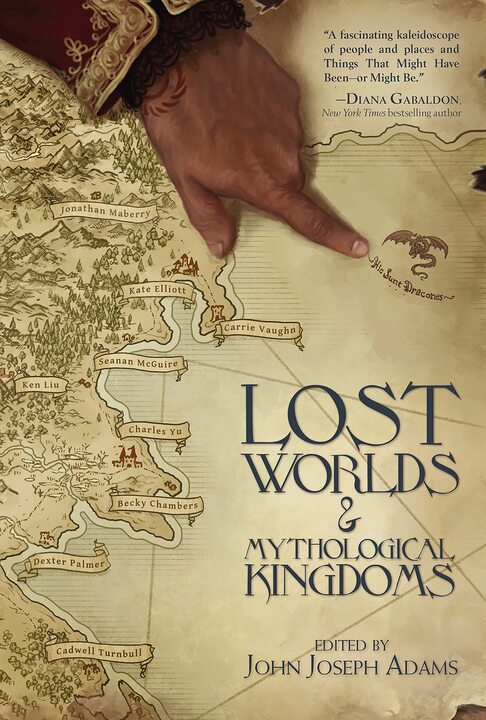 Lost Worlds & Mythological Kingdoms (Grim Oak Press, March 8, 2022)
I owe my professional writing career to John Joseph Adams.
I published four stories in Black Gate magazine, all under the name Todd McAulty. I wrote one novel, The Robots of Gotham, and before I could really start to shop it around John purchased and published it under his John Joseph Adams imprint at Houghton Mifflin Harcourt. That was the first time I'd ever been paid for my fiction, and with that one sale, John made me a professional writer. He subsequently bought several of my short stories for Lightspeed magazine, including one I really wanted to call "Sixty Ton Killer Robot," but John wisely retitled "The Ambient Intelligence."
It's no surprise that John and I are pretty aligned. We both love fast paced adventure SF and fantasy in colorful settings. Also robots! (Yeah I know. Everybody loves robots.) John is a prolific anthologist, with nearly 50 anthologies under his belt in the last 15 years or so, including the popular Wastelands and The Apocalypse Triptych volumes, and I'm always on the lookout for his latest. So I was excited to see Lost Worlds & Mythological Kingdoms, a fat volume of original stories from the top fantasists working today, including Kate Elliott, Carrie Vaughn, Tobias S. Buckell, James L. Cambias, Jonathan Maberry, Seanan McGuire, Jeffrey Ford, Becky Chambers, Theodora Goss, and many others.
Lost Worlds & Mythological Kingdoms is a collection of tales of lands "beyond the edges of the map." Marlene Harris at Reading Reality gave it a 4-star review, saying in part:
The stories I plan to put on my Hugo Ballot next year, because they were utterly awesome… "The Cleft of Bones" by Kate Elliott, a story about slavery, revolution and rebirth as seen through the eyes of an absolutely fascinating character. "The Voyage of Brenya" by Carrie Vaughn, which is a story about gods and heroes and the way that stories turn into myths and legends. "Out of the Dark" by James L. Cambias, one of two space opera stories, this time about a corporate hegemonies, a salvage crew consisting of lifelong rivals, and a pre/post spacefaring civilization in which Doctor Who's Leela would have been right at home.

Three stories were utter gems from start to finish. "Pellargonia: A Letter to the Journal of Imaginary Anthropology" by Theodora Goss, which consists entirely of a letter written to the afore-mentioned journal by three high school students who took the founding principles of the journal – that imaginary anthropology could create real countries – and ran with it all the way into Wikipedia, the nightly news, and a civil war that has captured one of their fathers somewhere that never should have existed in the first place.

"The Orpheus Gate" by Jonathan Maberry reaches back to the Golden Age of lost kingdom stories by taking the utterly science driven great granddaughter of Professor George Edward Challenger (hero of Sir Arthur Conan Doyle's The Lost World) and putting her on a collision course with a friend of her great grandmother's – a woman who challenges the scientist's belief in everything rational and provable in order to force the young woman to finally open her mind to a truth she does not even want to imagine, let alone believe.

And finally, "The Tomb Ship" by Becky Chambers, which is a story about a loophole, about the evil that humans do in the name of a so-called 'Greater Good', and just how easy it is to fall into the trap and how hard it is to even think of a better way. Or even just a way that lets the protagonist sleep at night with a somewhat clear conscience. That it also feels like a tiny bit of an Easter Egg for The Outer Wilds was just the right icing on this gold-plated cake of a story.
I enjoyed poring over that striking cover, with its evocative fantasy map crammed with nifty little details (including the name Ken Liu, who doesn't actually appear inside.)
Here's a list of all those who do appear in the Table of Contents.
Introduction, John Joseph Adams
"The Light Long Lost at Sea," An Owomoyela
"The Cleft of Bones," Kate Elliott
"The Voyage of Brenya," Carrie Vaughn
"Comfort Lodge, Enigma Valley," Charles Yu
"The Expedition Stops for the Evening at the Foot of the Mountain Pass," Genevieve Valentine
"Down in the Dim Kingdoms," Tobias S. Buckell
"Those Who Have Gone," C.C. Finlay
"An Account, by Dr. Inge Kuhn, of the Summer Expedition and its Discoveries," E. Lily Yu
"Out of the Dark," James L. Cambias
"Endosymbiosis," Darcie Little Badger
"The Orpheus Gate," Jonathan Maberry
"Hotel Motel Holiday Inn," Dexter Palmer
"On the Cold Hill Side," Seanan Mcguire
"The Return of Grace Malfrey," Jeffrey Ford
"The Tomb Ship," Becky Chambers
"Pellargonia: A Letter to the Journal of Imaginary Anthropology," Theodora Goss
"There, She Didn't Need Air to Fill Her Lungs," Cadwell Turnbull
Lost Worlds & Mythological Kingdoms was published by Grim Oak Press, March 8, 2022. It is 384 pages, priced at $30 in hardcover and $9.99 in digital formats. Get all the details here.
See all our recent coverage of the best new fantasy and SF releases here.